Delray Beach, FL –(Ammoland.com)- The TacProGear  Tactical Rolling Luggage Bag in the carry-on size is a traveler's constant companion.
The bag features the distinctive dual external zippered pockets with a MOLLE spine in between for the addition of small pouches or carabineer held items such as a water bottle.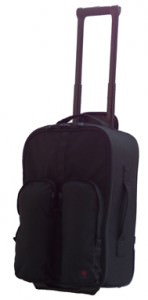 The Tacprogear Tactical Rolling Luggage bag is built to withstand rugged handling with reinforced edges and slide rails.
The high-strength polycarbonate wheels can withstand miles of travel over hard surfaces or debris. The retractable handle is ambidextrous.
Interior mesh-lined pockets allow for quick access to supplies. The 22" x 14" x 10" carry-on size bag is durable enough to accommodate any size load.
Available in black for an MSRP of $187.00 (P/N: B-TRLB-1) For more information about Tacprogear, visit www.tacprogear.com.  "Like" us on Facebook at www.facebook.com/Tacprogear.
Catch up on our latest news on Twitter at www.twitter.com/Tacprogear.