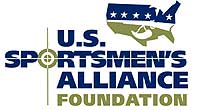 Columbus, OH –-(Ammoland.com)- The U.S. Sportsmen's Alliance Foundation and other members of the Hunter Conservation Coalition have been cleared by a federal judge to intervene in a lawsuit filed by anti-hunting organizations seeking to overturn the delisting of wolves in the Western Great Lakes region.
Wolves in the Western Great Lakes region, which consists primarily of Wisconsin, Minnesota, and Michigan, were removed from Endangered Species Act (ESA) protection in January of 2012 after exceeding population recovery goals.  U.S. District Court Judge Beryl A. Howell's ruling will allow USSAF and the Hunter Conservation Coalition to represent the interests of hunters before the court.
The Hunter Conservation Coalition is a partnership effort of national and regional hunting and conservation organizations working together in the case.  At the National level, the Coalition includes the National Rifle Association of America (NRA), the Rocky Mountain Elk Foundation (RMEF), Safari Club International (SCI), and the U.S. Sportsmen's Alliance Foundation (USSAF).  At the regional level, Coalition members include organizations the Michigan Hunting Dog Federation, the Michigan United Conservation Clubs, the Upper Peninsula Bear Houndsmen Association, Wisconsin Bear Hunters Association, and the Wisconsin Bowhunters Association.  Collectively these organizations have joined forces to fight for sportsmen and women who hunt wolves, deer, moose, elk, and other game species.  These groups have intervened in the case to ensure that hunting remains part of sustainable management and conservation strategies for all wildlife.
"This is just the latest in a series of collaborations between the U.S. Sportsmen's Alliance Foundation, Safari Club International, and the National Rifle Association to defend against legal challenges to the delisting of the Western Great Lakes wolves and to wolf harvests in individual states," said Bud Pidgeon, USSAF president and CEO.  "USSAF, SCI, and the NRA are pleased to be joined by so many other hunting organizations in defense of the long awaited recognition of wolf recovery.  We also welcome the states of Michigan and Wisconsin to the litigation."
The lawsuit, filed by the Humane Society of the United States (HSUS), Born Free USA, Help Our Wolves Live, and Friends of Animals and their Environment, aims to return wolves in the region to federal protection under the ESA.  If successful, the lawsuit would prohibit state wildlife agencies from managing recovered and growing wolf populations.
About:The U.S. Sportsmen's Alliance is a national association of sportsmen and sportsmen's organizations that protects the rights of hunters, anglers and trappers in the courts, legislatures, at the ballot, in Congress and through public education programs. Visit www.ussportsmen.org.