AmmoLand Editors Note: AmmoLand Shooting Sports News is looking to meet with any gun rights activists at this years GRPC, who are interested in becoming regular AmmoLand contributors on our Shooting Sports News Wire. Please email [email protected] to set up a time to meet.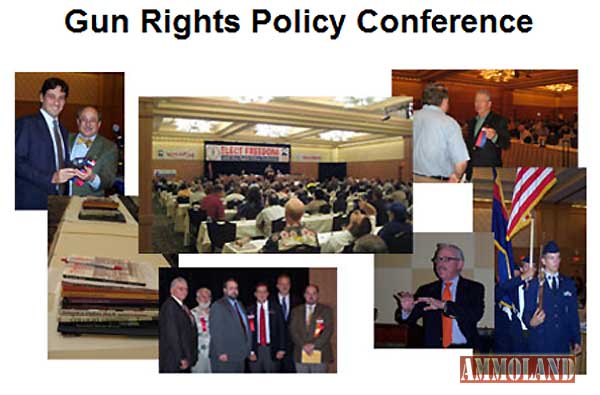 BELLEVUE, WA –-(Ammoland.com)- I would like to invite you to our 28th annual GRPC which will be taking place September 27, 28 and 29, 2013 at the Houston Airport Marriott at George Bush Intercontinental in Houston, Texas.
This is your once-a-year chance to network, get an insider's look, and plan pro-gun rights strategies for the coming year.
Past GRPCs have outlined victory plans and made public the latest firearms trends. They allow you a first-hand chance to hear movement leaders–and make your voice heard.
Conference attendance is free. Hotel reservations for the special discounted room rate of $104 per night can be made by calling 1-800-627-7468, and telling them you are planning on attending the Gun Rights Policy Conference (GRPC). Additionally, you can book your hotel reservations online through this link. Rooms are selling fast, make sure to book your room soon!
This year we'll take a look at critical issues such as: bans on semi-auto firearms and magazines, concealed and open carry, federal legislation, BATFE policies, gun show regulation, state and local activity, the United Nations Arms Trade Treaty and the most recent Right to Keep and Bear Arms court cases. As in the past, the Second Amendment Foundation will not only pick up the tab for lunch, but will also provide more than $125 worth of vital pro-gun rights materials to each attendee. In addition to the box lunch and free materials, you will have the opportunity to chat with the speakers at the two planned evening receptions.
This event is so important to our cause, that the SAF Board of Trustees has elected to help underwrite the entire cost of the event. ­Your cost to attend this event is absolutely free!*
We need your participation. Seating is limited. Go to www.SAF.org now to register. https://www.saf.org/default.asp?p=GRPC
If you have any questions or wish to register over the phone, please call the SAF office at (425) 454-7012.
Sincerely yours, Alan M. Gottlieb
Founder