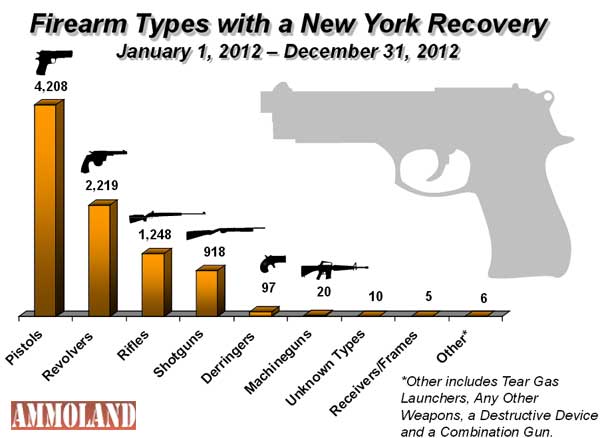 WASHINGTON – -(Ammoland.com)-  The Bureau of Alcohol, Tobacco, Firearms and Explosives (ATF) today released firearms trace data for all individual states and territories for calendar year 2012.
The 2012 report includes first time released demographics data which includes a state–by–state breakdown of crime guns recovered and traced, age ranges of firearm possessor at the time of recovery, the type and caliber of firearms, and the criminal offense associated with the crime gun.
Firearms tracing provides information on the movement of a firearm from its first sale by a manufacturer or importer through the distribution chain in an attempt to identify the first retail purchaser. A firearms trace is typically conducted when a law enforcement agency recovers a firearm at a crime scene and needs to know the origin of that firearm in order to develop investigative leads. Trace information can link a suspect to a firearm in a criminal investigation, identify potential traffickers, and detect in–state, interstate and international patterns in the sources and types of crime guns.
ATF's National Tracing Center (NTC) is the nation's only crime gun tracing facility. The NTC provides critical information that assists domestic and international law enforcement agencies solve firearms crimes, detect firearms trafficking and identify trends with respect to intrastate, interstate and international movement of crime guns. The NTC traced more than 344,000 crime guns in calendar year 2012.
ATF is dedicated to reducing firearms trafficking and firearms–related violent crime.
For more information or to view the 2012 firearms trace data, please see our web site at Firearms Trace Data – 2012. https://www.atf.gov/statistics/trace-data/2012-trace-data.html