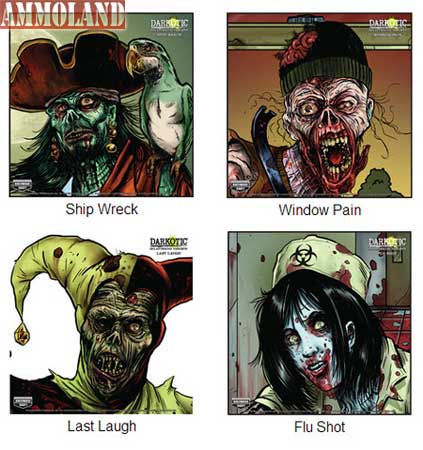 Eden Prairie, MN –-(Ammoland.com)- Birchwood Casey continues to bring fun to the range with their new line of Darkotic Humanoid Targets.
Darkotic Humanoid Targets "splatter" on bullet impact, leaving a halo around each bullet hole. These new targets also leave a highly visible green halo on shots specific to the head, which is the most important shot on a zombie.
The new Darkotic Humanoid Targets are 12"x12" square, allowing for more focused shots. The compact size also allows more targets to be set up at one time on a backstop.
The targets have a self adhesive backing, so push-pins and staple guns aren't needed.
There are four new versions, including the Ship Wreck, Flu Shot, Last Laugh and Window Pain – all designed to send a shiver down your spine.
Darkotic Humanoid Targets come in packs of five for a suggested retail price of $11.30.
Visit the Birchwood Casey website at www.birchwoodcasey.com, write to 7887 Fuller Road, Ste. 100, Eden Prairie, MN55344 or call 800-746-6862 for more information.