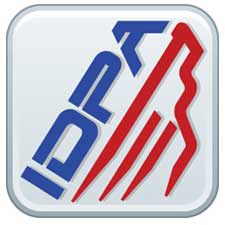 BERRYVILLE, Ark. –-(Ammoland.com)- Shooting for Team Colt, Mark Redl won six of 10 stages on his way to taking the Custom Defensive Pistol division title at the 17th Annual Massachusetts State IDPA Championship, presented by Smith & Wesson.
With his final time of 197.82 seconds and 38 points down, Redl outpaced runner-up and 2012 defending champion Craig Buckland by 16.15 seconds to win the division.
Sanctioned by the International Defensive Pistol Association (IDPA), the Massachusetts State IDPA Championship was held Saturday and Sunday, June 1-2, at the Rod & Gun Club of New Bedford located in North Dartmouth and drew 120 competitors.
Buckland, who won three stages, finished first Master in 213.97 seconds with 40 points down. Third in the division went to Matt Holmes, first Expert, with 234.21 (45) followed by second Expert Robert Biehl with 237.59 (68) and Nick Henry, the third Expert, finishing fifth in the division with a stage win and a time of 240.22 (48).
Elsewhere in the division, Phillip Atchison claimed first Sharpshooter with 284.22 (101) while Novice class shooter Glenn Baker finished with 500.16 (107).
Complete, searchable match results can be found online at IDPA.com.
For more information on IDPA, the 17th Annual Massachusetts State IDPA Championship presented by Smith & Wesson, or to join the more than 22,000 members competing each week all across America, visit www.IDPA.com.
You can further connect with the IDPA community through IDPA's social media, such as @OfficialIDPA on Twitter and ShootIDPA on Facebook, Instagram, Pinterest and Tumblr, or check for regular news and updates on the organization's DOWN ZERO Blog.