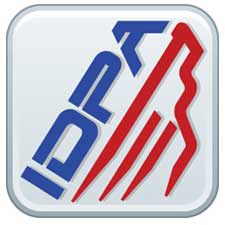 BERRYVILLE, Ark. –-(Ammoland.com)- With the third overall best time, David Dolio defended his 2012 championship run winning the Stock Service Pistol division title this past weekend at the 17th Annual Massachusetts State IDPA Championship, presented by Smith & Wesson.
Despite winning just one of the 10 stages, Dolio managed to outpace the competition with a final time of 196.43 seconds and 53 points down.
Finishing immediately behind Dolio for the second year in a row was Ed Stettmeier as first Master and High Military with 214.48 (78) and four stage wins. Third place went to Bill Desmond, first Expert, with 221.20 (74) and two stage wins.
Rounding out the top five were David Bold, second Master, with 222.42 (77) and Frank Scahill, third Master, with 226.95 (69) and one stage win.
Elsewhere in the division, Justin DeMayo took first Sharpshooter with a time of 249.39 seconds and 103 points down. Woods Wannamaker finished first Marksman with 306.59 (94) while Kristin Brickel took first Novice with 474.38 (185).
Complete, searchable match results can be found online at IDPA.com.
Held Saturday and Sunday, June 1-2, at the Rod & Gun Club of New Bedford located in North Dartmouth, the International Defensive Pistol Association's (IDPA) state championship match drew 120 top shooters.
For more information on IDPA, the 17th Annual Massachusetts State IDPA Championship presented by Smith & Wesson, or to join the more than 22,000 members competing each week all across America, visit www.IDPA.com.
You can further connect with the IDPA community through IDPA's social media, such as @OfficialIDPA on Twitter and ShootIDPA on Facebook, Instagram, Pinterest and Tumblr, or check for regular news and updates on the organization's DOWN ZERO Blog.