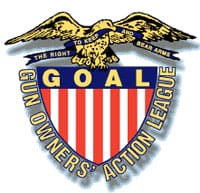 BARNSTABLE – -(Ammoland.com)- Members of The Gun Owners Action League of Massachusetts (GOAL) testified today before the Joint Committee on Public Safety and Homeland Security's first legislative hearing on the Massachusetts gun laws in Cape Cod Community College in Barnstable.
Over one hundred GOAL members attended the hearing to provide personal testimony to the Committee regarding their personal experiences dealing with the Commonwealth's obtuse gun laws.
GOAL encouraged its members to attend the hearing so the Committee could hear from a diversity of Massachusetts' lawful gun owners their experiences of frustration and persecution by licensing authorities under the current laws.
In recent months GOAL has been trying to draw attention to the illegal delays Massachusetts residents are facing from their local licensing authorities. Massachusetts law states that a local police department has 40 days to approve or deny a license for a resident. Currently, the average wait time a Massachusetts resident face is between 3-6 months with some waiting up to a year to get an answer on their application from their local police department.
By utilizing the personal stories of its members, GOAL hopes that the legislature will take action and bring much needed reforms to the gun laws of the Commonwealth.
"We want the legislature to know what is happening on the ground in this state," said Jim Wallace, GOAL's Executive Director. "The best way to communicate the problems with the gun laws in Massachusetts is through personal experience and GOAL and its members are more than happy to talk about the continuing problems we see and experience daily."
This is the first in a series of public hearings the Joint Committee on Public Safety and Homeland Security is holding across Massachusetts on the gun laws and licensing system. GOAL and its members will be in attendance at each hearing to provide meaningful testimony.
About GOAL:
GOAL is the official state firearms association in Massachusetts, which was founded in 1974to protect the 2nd Amendment rights of the law-abiding citizens of the Commonwealth. GOAL's grassroots organization has over 15,000 members and works directly with both legislators and community organizers to establish successful public outreach and educational programs to make gun ownership safe for all Massachusetts residents.