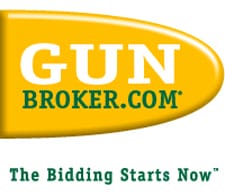 Kennesaw, GA & Whitmore Lake, MI – GunBroker.com, the world's largest online auction of firearms and accessories, and Vanguard USA, a global leader in sporting optics, shooting accessories, and photo-video accessories since 1986, congratulate Michael Walters of White, Georgia as the winner of their "Watch the Race" Sweepstakes.
Walters is the lucky recipient of a dream auto-racing experience, winning an expenses paid trip for two to Las Vegas for the NASCAR Camping World Truck Series race.
His VIP experience includes the once in a lifetime opportunity to watch the race trackside from the GunBroker.com race team pit.  Walters will also have the opportunity to meet and take photos with GunBroker.com driver, Joey Coulter and the #18 GunBroker.com Toyota Tundra.  To ensure he and his guest don't miss a second of the action, Walters will also receive two pairs of new Vanguard Spirit ED 1050 binoculars.
The "VANGUARD Watch the Race Sweepstakes on GunBroker.com" launched in January 2013 at the SHOT Show with GunBroker.com driver appearances at VANGUARD's booth and was open for consumers to enter on GunBroker.com through February.
"We enjoy the opportunity to use our current assets to support our advertising partners' goals," said Don Hall, COO of GunBroker.com. "Working with VANGUARD to create the ultimate racing experience was a natural fit. With the GunBroker.com race team, we are able to provide unprecedented access. Using their superior binoculars, the Walters' won't miss a second of the action."
"This was a very unique opportunity and we were extremely excited to be a part of it with GunBroker.com," said Mark Namatevs, National Sales Manager for VANGUARD. "It's great for us to get the VANGUARD brand out in the NASCAR world.  I hope our winner enjoys their day at the races."
About the Spirit ED 1050 binoculars
Spirit ED's light transmission of up to 90 percent results in a near-perfect viewing experience. Its advanced lens and prism design with ED glass means you'll get up-close and personal with nature, unveiling details in a way you never thought possible. Spirit ED boasts user-friendly features, too, with a lightweight, comfortable-to-hold body design, twist-out eyecups for long eye relief, large focus adjustment wheel and 100 percent waterproofness, so the weather will never slow you down. Every pair of Spirit ED 1050 binoculars includes a Premium Lifetime Warranty, ED glass technology for superior color reproduction, advanced lens coatings for enhanced light transmission, is waterproof and fogproof, and has a lightweight body design.
About Vanguard
Since 1986, VANGUARD has provided photographers and outdoor enthusiasts around the world with innovative, high-quality accessories. With ISO 9001 and 14001-certified facilities and hundreds of design patents, VANGUARD has earned a solid reputation that spans the world. For more information about VANGUARD products, visit www.vanguardworld.com.
About GunBroker.com
GunBroker.com is the world's largest gun auction website. Launched in 1999, GunBroker.com is an informative, secure and safe way to buy and sell firearms, ammunition and hunting/shooting gear online. GunBroker.com promotes responsible ownership of guns and firearms. Aside from merchandise bearing its logo, GunBroker.com sells none of the items listed on its website. Third-party sellers list items on the site and Federal and state laws govern the sale of firearms and other restricted items. Ownership policies and regulations are followed using licensed firearms dealers as transfer agents.