This action is 2A FlashMob Approved, anyone taking action will automatically qualify for their own FREE 2A Mob Patch. New Jersey –-(Ammoland.com)- If you aren't already a member of the NJ2AS Twitter Army PLEASE JOIN! Even if you have *NO* idea what the heck I am talking about,  you can help – AND WE NEED YOUR HELP!
It is EASY. If you need help getting started with Twitter (I did), our Twitter Queen – Miss Amy will be happy to help you. You can contact her at [email protected] (no surprise there).
Thank you ~ Frank.  
Amy's message for this week follows:
Greetings Everyone!
Please focus on the following Tweets for this week:
Has @NJSenatePres even considered the fiscal cost of S2723 to NJ? We already know what the Constitutional cost will be #NJ2AS #2A
According to @NJSenatePres Women's Rights do NOT include this poor NJ Mother's right to defend herself http://bit.ly/17Apzy5 #NJ2AS #2A
Enter to WIN A GUN by telling @GovChristie to VETO #NewNJGunLaws. Go to http://StopNJGunControl.org/ to support NJ #2A Rights #NJ2AS
NJ doesn't need any more #NewNJGunLaws! Tell Christie to VETO at StopNJGunControl.org & be entered to win 1 of 3 guns #NJ2AS #2A
Please @GovChristie do not allow Jim Crow laws in NJ. S2723 forces minorities & disabled to pay $$$ to exercise their #2A Rights #NJ2AS
Why is @LouGreenwald bringing Jim Crow Laws to NJ? His bill forces poor, minorities, women, disabled to pay for their #2A Rights #NJ2AS
Moms & Dads ask @GovChristie to VETO #NewNJGunLaws. They won't stop crime, only hurt 1.5 Million lawful gun owners & cost NJ BILLIONS #NJ2AS
Show the rest of the Country that @GovChristie opposes Jim Crow Laws. VETO #NewNJGunLaws that cost BILLIONS & Won't Stop Crime! #NJ2AS #2A
Please copy and paste those 8 comments into your Twitter accounts.
Also, it is imperative that each and every one of you go to these specific Tweets and RETWEET & FAVORITE them immediately:
https://twitter.com/ HindaRifka/status/ 349962229640200193
https://twitter.com/ HindaRifka/status/ 349961575727235073
https://twitter.com/ HindaRifka/status/ 349957529477988355
https://twitter.com/ HindaRifka/status/ 349954155516923906
We have approximately 200 NJ2AS Members signed up for this Twitter Army, so each of the aforementioned four comments should have at least 200 Retweets & 200 Favorites. Please take a few minutes out of your busy day to make your voice heard and help protect our Second Amendment Rights!
We need big numbers this week as we get closer and closer to the new NJ Gun Control Laws being enacted. Christie has only 45 days in which to veto these restrictive, draconian laws, and the clock is ticking. If he does not veto them, they will automatically become New Jersey law. You can help convince him and all it takes is a few minutes on Twitter. We're not asking you to drive to Trenton, no marching in the rain, no carrying signs at the State House. All we're asking is for each of you to copy and paste some Tweets and click a few Retweets and Favorites.
Thanks in advance for all of your help in this very urgent matter. As always, please feel free to contact me at any time. Now go make your voice heard!
Warm regards, Amy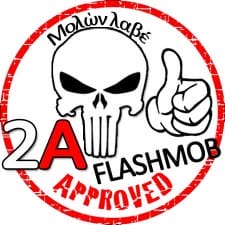 About:
New Jersey Second Amendment Society – Our mission is to promote the free exercise of Second Amendment rights within the community and Legislature of New Jersey, to educate the community regarding the enjoyable, safe, and responsible use of firearms, and to engender a sense of camaraderie and fellowship among the members and their families. Visit: www.nj2as.com
About 2A Flashmob: 
In an effort to motivate gun owners and Second Amendment Supporters to show up in person at important events and rallies AmmoLand Shooting Sports News is giving away FREE 2A Flashmob Patches to anyone who attends a protest, rally, open carry event, committee hearing at your state capital or a Moveon.org counter protest. (You may already be eligible)
Spread the word, get out, get active!