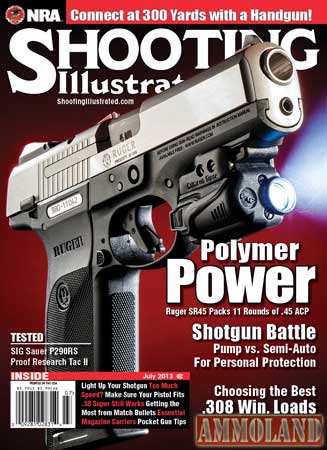 FAIRFAX, Va. –-(Ammoland.com)- The July issue of Shooting Illustrated, on newsstands now, features a new polymer-frame Ruger pistol chambered in .45 ACP that caught the attention of a Gunsite instructor, a debate over shotgun actions and lessons on going long—with a handgun.
Leading the coverage of all things self-defense is Ruger's SR45, the latest addition to the company's striker-fired pistol line. It combines ergonomic and weight-saving benefits with an 11-round capacity.
"The care Ruger designers took in creating this frame was apparent as soon as I picked it up," writes author and Gunsite instructor Ed Head. "Shaped and contoured to seat the gun low in the hand, the frame provides comfort and control while shooting."
With a little practice and the right ammo, getting most centerfire rifles to connect with targets at distances of 200 and 300 yards is relatively easy. But, what about with a handgun like the SR45? Richard Mann examines techniques to help you wring the most out of your self-defense sidearm in order to achieve hits at surprising distances.
For those who rely on a shotgun for personal protection, here's an interesting question: What happens when a Texas lawman with a passion for pump shotguns has a difference of opinion with an avid 3-gunner who thinks a semi-automatic action is superior? Opinions fly as Sheriff Jim Wilson and Bryce M. Towsley debate over which action is supreme in an all-out scattergun slugfest.
Look for these articles and more in the July issue of Shooting Illustrated, The Definitive Source for the Modern Shooter, at a newsstand near you. You can also subscribe by calling (877) 223-3840. Or subscribe online through Amazon: https://tiny.cc/mgduyw
For more information: visit www.ShootingIllustrated.com .