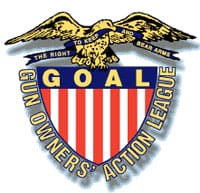 Massachusetts – -(Ammoland.com)- On Tuesday June 4, 2013 the Massachusetts Supreme Judicial Court (SJC) handed down a decision in a case called Mirko Chardin vs. Police Commissioner of Boston (SJC-11196).
The case stems from a 1995 case where on January 19, 1995, Mr. Cardin was charged in the Juvenile Court with one count of possession of a firearm without a license, and one count of unlawful possession of ammunition.
On April 18, 1995, Chardin admitted to sufficient facts and was adjudicated a delinquent child with respect to both charges. He received a suspended commitment to the Department of Youth Services, was released to his mother's custody, and was given probation until April 18, 1996.
This adjudication has now prevented Mr. Chardin from obtaining a License to Carry as an adult under Massachusetts firearms licensing statute disqualifier, G.L. c. 140, § 131 (d ) (i): has, in any state or federal jurisdiction, been convicted or adjudicated a youthful offender or delinquent child for the commission of (a) a felony; (b) a misdemeanor punishable by imprisonment for more than two years; (c) a violent crime as defined in section 121; (d) a violation of any law regulating the use, possession, ownership, transfer, purchase, sale, lease, rental, receipt or transportation of weapons or ammunition for which a term of imprisonment may be imposed; or (e) a violation of any law regulating the use, possession or sale of controlled substances as defined in section 1 of chapter 94C;
One of the main challenges to the case is the recent cases on the state and federal level that have ruled that youth infractions cannot, and should not, be held to the same level as infractions by adults. In its ruling the SJC actually cites some of the cases and then seems to ignore them.
It has been a "long-standing principle" in Massachusetts that "the treatment of children who offend our laws are not criminal proceedings." Commonwealth v. Connor C., supra at 641. See Commonwealth v. Anderson, 461 Mass. 616, 629- 630, cert. denied, 133 S.Ct. 433 (2012); Department of Youth Servs. v. A Juvenile, supra. General Laws c. 119, § 53, sets forth a legislative policy that statutory provisions dealing with delinquent children shall be construed liberally such that children brought before court, "as far as practicable, … shall be treated, not as criminals, but as children in need of aid, encouragement and guidance." [FN22] See Commonwealth v. Magnus M., 461 Mass. 459, 461, 466 (2012) (discussing underlying philosophy and goals of juvenile justice system); R.L. Ireland, Juvenile Law § 1.3, at 18-32 (2d ed.2006) (same).
After admitting to these recent rulings the court sidesteps them by stating: "…we conclude that the Legislature intended to preclude an individual who has been adjudicated a delinquent child for the commission of a felony from obtaining a license to carry firearms, notwithstanding the policy enunciated in G.L. c. 119, § 53. If the Legislature had wanted to exclude this class of persons from the provisions of G.L. c. 140, § 131 (d ) (i), it would not have expressly disqualified such persons from licensure."
This statement is not logical on its face since all of the recent cases regarding juvenile adjudication are post 1998 Gun Control Act by the Court's own admission. Given that knowledge it would be incumbent upon the Court to revisit the Constitutional issues now involved in light of cases like Connor and Magnus. By not addressing these laws under the new light of law, the Court has brought into question its very integrity.
Even our own Governor Patrick has filed legislation to reform the Juvenile system in light of recent national cases. In a Monday, January 28, 2013 press release regarding his legislation
"Every violent felon should be held accountable for their actions, even youth. But in sentencing every felon's circumstances should be considered, too, and youth itself is a special circumstance," said Governor Patrick. "It is time for the Commonwealth's laws to reflect the value, in accord with the Supreme Court, that young people deserve every opportunity for rehabilitation and reform."
The Governor's legislation comes on the heels of the United States Supreme Court ruling in Miller v. Alabama, which held that mandatory criminal sentences of life in prison without the possibility of parole, imposed on defendants who were less than 18 when they committed their crimes, were unconstitutional.
In this instance the Governor is trying to protect the rights of violent felons, but the Court continues to ignore the rights of juveniles.
The SJC in Chardin actually discusses the new Eighth Amendment provisions brought on by Miller v. Alabama, 132 S.Ct. 2455, 2469 (2012) and then sidesteps it and quickly dismisses any connection.
The Court's Eighth Amendment jurisprudence "make[s] clear that the prohibition against cruel and unusual punishment applies only to punishments. It does not apply to equally burdensome regulatory measures that may be characterized as cruel and even unusual." Opinion of the Justices, 423 Mass. 1201, 1238 (1996). It is axiomatic that G.L. c. 140, § 131, is a regulatory statute, and that its prohibition on the issuance of a license to carry firearms to an individual who has been adjudicated a delinquent child for the commission of a felony is not a criminal penalty. See Dupont v. Chief of Police of Pepperell, 57 Mass.App.Ct. 690, 694 (2003) ("statute governing who may carry firearms is not punitive"). Therefore, the Eighth Amendment prohibition against cruel and unusual punishment is not applicable to Chardin's circumstances.
So, according the SJC a law that unjustly denies an adult their civil rights because of a juvenile act is not punitive and therefore recent cases regarding the Eighth Amendment do not apply.
Now getting to the basis of the case regarding the Second and Fourteenth Amendments, the Court recognizes Heller and McDonald
"Two years after its decision in Heller, a plurality of the Supreme Court held in McDonald, supra, that an individual's Second Amendment right was fully applicable to the States through the Fourteenth Amendment to the United States Constitution."
and again sidesteps and dismisses their applicability:
"In other words, long-standing and "presumptively lawful" regulations on the right to keep and bear arms "do not burden conduct that falls within the scope of the Second Amendment and therefore are not subject to the heightened scrutiny required where protected conduct within the scope of the Second Amendment is infringed."

"Conclusion. General Laws c. 140, § 131 (d ) (i), does not infringe on Chardin's right to keep and bear arms under the Second and Fourteenth Amendments to the United States Constitution. Accordingly, this case is remanded to the county court where the single justice shall enter a judgment denying the petition."
This one statement by the Court explains its philosophy and strategy for tanking any current and future cases regarding Second Amendment cases that might be brought before them. It is not logical for a court to determine that decades old laws are "presumptively lawful" if the court refuses to review those laws under the guidance of fresh higher court rulings regarding strict constitutional scrutiny. It is also beyond any rational thinking that laws and regulations restricting a civil right not be within the scope of that civil right? Such thinking would equate a holding that laws regulating where and when people can gather to exercise their first amendment rights do not fall within the scope of the first amendment.
It is simply ludicrous.
It is quite clear that the Massachusetts Supreme Judicial Court remains an activist court with no respect for the state or federal Constitutions. It is plainly evident that the Court simply carefully manipulates the English language and current law to fit its politics. What do we do as citizens when our highest court rules on statements that are factually incorrect?
About:
Gun Owners' Action League is the official state firearms association in Massachusetts. We are an association of law-abiding citizens who believe in the basic right of firearms ownership for competition, recreation and self-protection. GOAL works hard to defend the Constitution and the Bill of Rights against those in Massachusetts who wish to infringe upon the freedoms guaranteed by our forefathers. The programs sponsored and developed by Gun Owners' Action League are supported by competitors, sportsmen, recreational shooters and law enforcement throughout the state. We were formed in 1974 to protect the right to keep and bear arms for lawful purposes in the Commonwealth of Massachusetts. We are recognized as the state's premier gun rights association. www.goal.org