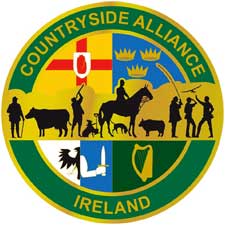 Ireland –-(Ammoland.com)- A decision has been made by the Executive Committee of the Irish Game Protection Association (IGPA) to merge with Countryside Alliance Ireland (CAI).
As the representative body for the driven shoots of Ireland, the Association was formed in 1890 by a group of keen sportsmen to help conserve and protect the habitats of game birds and wildfowl. It is still necessary in 2013 to uphold these same objectives.
Jack Meath, a former Chairman of IGPA, said: "Countryside Alliance Ireland has worked very hard to encourage and succour traditional field sports on the whole island of Ireland."

It has a most efficient Secretariat and lobbies hard on behalf of field sports and rural issues in both Leinster House and Stormont. This alliance will help to strengthen the message of adopting a "Best Code of Practice" on the ground by all field sport enthusiasts of whatever description.

I am delighted that the Committee of IGPA has chosen to merge with Countryside Alliance Ireland and indeed that Countryside Alliance Ireland has accepted us in this partnership".
CAI Chief Executive, Lyall Plant, said: "The IGPA must be commended for their excellent work over the years and we are delighted that this merger has taken place. We look forward to fully adopting and incorporating the IGPA's objectives within CAI's strategy and building upon their accomplishments to date".
About
Countryside Alliance Ireland has been active since the early 1960s, providing Irish sportsmen and women with high levels of information and advice and representation. Over the years as the political environment has changed we have evolved into a highly effective campaigning organisation. Countryside Alliance Ireland is governed by an elected "Board" made up from members throughout Ireland. The Board sets policy and oversees financial and operational matters. Countryside Alliance Ireland partner groups nominate members of the "Board" also, making it truly representative of country sports interests in Ireland. Visit: www.countrysideallianceireland.org