By Atticus James
This article was written as a beginners guide to help anyone in the market looking to buy a new Modern Sporting Rifle Gun Case. You may also enjoy our recent article "Top 5 Best Gun Cases – Gun Gear Review."

Texas – -(Ammoland.com)- GearsofGuns.com recently did a poll about different types of Modern Sporting Rifle (MSR) cases to get a take on what the general population of shooter carries their MSRs in.
This article was written as a guideline to help anyone in the market for a new Modern Sporting Rifle Gun Case.
Here are the stats from our recent poll and what case types they use to transport their Modern Sporting Rifles (MSRs):
Soft Case: 47.37%
Custom Foam Fitted Hard case: 21.05%
Hard Case (Low price range – Thin plastic primary case): 18.42%
Hard Case (Higher price range): 7.89%
Other: 5.26%
Soft Modern Sporting Rifle Gun Cases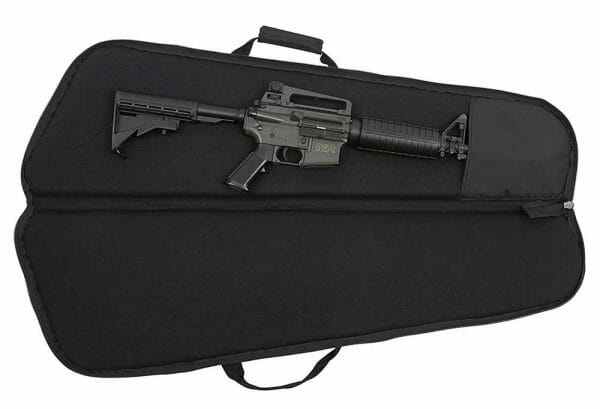 Soft MSR gun cases, like hard MSR gun cases, really have two different classes.
Basic single rifle multipurpose soft case: Like the Allen Company Wedge Tactical Rifle Case
All basic soft sport rifle cases that start around $20 and they are great if you are on a tight budget. But you get what you pay for.
Soft MSR Gun Case Pros:
Inexpensive.
Case protects against light scratches and light dinks.
Cases easily fit under beds, in closets or next to your gun safe.
Tends to be longer to accommodate more than just MSR rifle.
Soft MSR Gun Case Cons:
Does not protect rifle optics
Unless the gun bag has straps inside the case, the rifle can shift around which may cause damage to the gun and or the attachments
Limited extra storage for magazines or other accessories.
You can only lock the rifle not the gun case.
Overall:
This Allen Wedge Tactical Rifle Soft MSR Gun Case is a good starter case. If you are unsure if you will be getting more active in this sport you are not going to be spending a lot for something that will get insufficient use if you only shoot a couple of times a year.
Tactical MSR Soft Gun Case
The Tactical MSR soft cases, like the Voodoo Tactical Men's Padded Weapons Case, is mid-priced as rifle cases go
The GEARS crew owns two of the Voodoo Tactical Padded Rifle MSR soft cases which I like when we are working on multiple rifle reviews because it has backpack straps so I can carry six rifles (a dual rifle case in each hand and the soft case on my back).
Voodoo Tactical Padded Rifle Case Pros:
Most are MOLLE[1] -compatible (The black soft case above has the MOLLE straps on the left and right sides)
Most have two compartments for two MSRs.
Straps inside to keep the rifles from shifting.
Molle-like storage for magazines, binoculars, or whatever else you can fit inside.
Less bulky than a hard case for home storage and when on a trip.
Voodoo Tactical Padded Rifle Case Cons:
It is cloth and foam, not a hard plastic shell. While this comment seems redundant, it is there to point out that if you just put the case in the back of your truck or SUV the rifles can slide around and get damaged.
When traveling the case may take up less space, but you have to be aware of how you pack your rifles and where. With hard cases, you can worry less about having bags on top of the rifles and not losing zero on your scope.
Cannot take soft cases on airplanes unless they are in a hard case.
Protects against light scratches and light dinks but not much more.
You can only lock the rifle not the case.
The short length of the case means it is only designed for your MSRs.
Overall:
If you are getting into shooting MSRs and going to the range on a more frequent basis the Voodoo Tactical Padded Rifle Case is not a wrong way to transport your rifle(s). If you have a Precision Rifle (AR-15 with a long barrel) this might not work as well for you, and a hard AR 15 gun case is what you need.
Custom Foam Fitted Hard Gun Cases fro Modern Sporting Rifles
Foam-fitted hard cases, like the Plano All Weather Tactical Gun Case, have become very competitive in price, often lower than soft-sided long gun cases.
Fitted hard cases are an investment in your rifle. They are built to protect your rifle and other gear, and are incredibly tough, but are hard to store due to the fixed bulk size of the case.
Plano All Weather Tactical Gun Case Pros:
Protects your rifle from most kinds of damage that can occur when you have your rifle in a case.
Large fitted cases let you carry more than just one rifle and as seen above enables you to customize your rifle for the shooting needs when you get to your location for shooting (range or hunting).
Can carry more than one firearm.
Plano All Weather Tactical Gun Case Cons:
Heavy even when empty.
Fitted means once you cut the foam to your rifle it is going to fit ONLY that rifle.
You have to design your layout to optimize space because once you cut you are stuck with that setup in that foam layout forever.[2]
Expensive
Overall:
The Plano All Weather Tactical Gun Case is the best protection you can have for your primary rifle and accessories. However, if you have a variety of guns that you take to the range the particular foam inserts may not be cross-compatible with all your rifles.
Hard Gun Cases – Low Price Range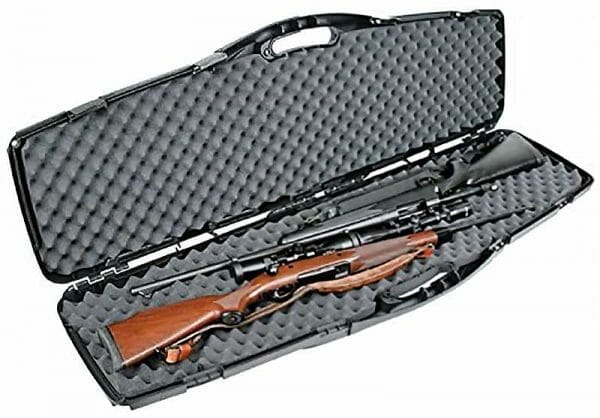 Low price range hard cases, like the Flambeau Safeshot Oversized Double Case, start around $15-40.
I own a few of these cases as that is what my grandfather and father both purchased for use with our hunting rifles. They are inexpensive hard cases without any of the flare.
Flambeau Safeshot Hard Side Double Gun Case Pros:
Inexpensive
Multipurpose in the sense you can keep your rifle in long-term storage in them if you do not own a safe.
Tamper resistant.
Most are thin enough to fit under beds or in closets without taking up a great deal of space.
Under 8 pounds
Flambeau Safeshot Hard Side Double Gun Case Cons:
Thin plastic so one good drop or bouncing around the back of your truck can break the plastic.
Thin foam – your scope can get bounced out of zero if dropped.
Case has limited room inside for gear and in some products not even designed to hold an MSR.
Latches can damage and break easy.
Overall:
The Flambeau Safeshot Hard Side Double Gun Case is my number one choice over soft cases in this price range. I own four of them and use them every time I leave my home with a gun
Hard Gun Cases – High Price Range
High Price range hard rifle cases, like the Pelican 1700 Long Case, start at $150 and run up from there.
Pelican 1700 Rifle Case with Foam – Pros:
Very ridged plastics that are less fragile than the low-end cases.
Some are waterproof which if you are hunting and you have rain or snow this will keep your rifle dry.
Most are TSA approved.[2]
Can be used as lockable storage for the rifle when you do not have a safe.[4]
Thicker foam to protect the rifle and scope.
Can stand up to a beating without breaking.
Most come with locks built into the latches
Pelican 1700 Rifle Case with Foam – Cons:
Expensive
Heavy even when empty.
One size fits all foam is a myth (when putting different rail attachments on the sides can keep the rifle case from closing.)
Overall:
When starting out if you have other firearms or plan on getting more and you have the money to invest in an excellent hard case the Pelican 1700 Rifle Cases are where I would start. You are not limited to carrying only you MSR in this case.
Other Gun Cases
Here are a few examples of other types of MSR cases. I cannot give pros and cons to them as they can be any number of different things from shooting mat/soft gun case to guitar case to homemade wooden case to whatever someone might imagine.
Footnotes:
Modular Lightweight Load-carrying Equipment
TSA Approved cases
As your shooting gear changes, your design might need to change too.
You can lock the case so if you are hunting with younger children they can't sneak into them without you knowing.
Places to Shop for Gun Cases
Amazon: Best prices and a broad selection of all type of gun cases.
Brownells: Huge Selection Gun Cases from top brands from authorized Dealer.
Written by Atticus James
Founder and Editor-in-Chief of Gearsofguns.com
About GearsofGuns:
Gears of Guns is a gun blog dedicated to bringing information about everything in the Firearm industry. Gears of Guns strives to post the newest guns and latest gun-related info we can. We try and test as many guns and products as we can. We talk to manufacturer's representatives and ask the questions that you want to be answered. We spend many hours researching the information that we present here on the Gears of Guns blog so that you know that the information is true, tried and trustworthy. Visit: www.gearsofguns.com
---
Guitar Gun Case Update:
The featured Guitar Gun Case, above, was made from a Topeakmart Acoustic Guitar Hardshell Case and 3pc of Pre-Scored Foam Blocks Inserts hand cut to fit.
---
AmmoLand Editor Comments:  This article was updated to reflect changes in product improvements / availability on 11/28/2017.