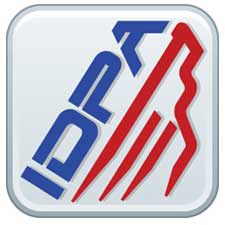 BERRYVILLE, Ark. –-(Ammoland.com)- MyGunDB, the best way to manage your firearm collection, has once again signed on as a major sponsor of the 2013 Smith & Wesson New England Regional IDPA Championship.
MyGunDB joins Blade-Tech Industries, the National Shooting Sports Foundation and Smith & Wesson, the title sponsor of the match, in supporting the New England Regional which is among the region's largest defensive pistol shooting competitions.
"MyGunDB recognizes the important role the shooting sports plays in the daily lives of firearms owners and has once again stepped up to generously support the New England Regional IDPA Championship," said Dori Smith of the MetroWest Tactical IDPA club.

"It's an honor to be able to give back to the shooting community," said Alan Ellis, the creator of MyGunDB. "It is incredible seeing so many participants signing up as it shows the ever increasing popularity of IDPA and the shooting sports in general."
The Smith & Wesson New England Regional IDPA Championship will take place August 16-18 at the Harvard Sportsmen's Club in Harvard, Massachusetts and will again be hosted by the MetroWest Tactical IDPA club.
The New England Regional is expected to draw upwards of 200 of the region's top shooters. Registration for the event opened on May 1 and match officials report that the competition is sold out with a growing waiting list of shooters hoping for a last minute opening.
For more information on IDPA, or to join the more than 22,000 members competing each week all across America, visit www.IDPA.com.
You can further connect with the IDPA community through IDPA's social media, such as @OfficialIDPA on Twitter and ShootIDPA on Facebook, Instagram, Pinterest and Tumblr, or check for regular news and updates on the organization's DOWN ZERO Blog.
About MyGunDB:
Founded by Alan Ellis in July 2011, Intelligent Firearm Solutions, LLC, the parent company of the MyGunDB product line, has grown to be the leader in firearm inventory software for collectors and enthusiasts. The company is now an official sponsor of the NRA National Matches at Camp Perry for 2013-2015, and a proud supporter of IDPA and the CMP. Though MyGunDB began as a small, free, utility program that the founder needed personally when he realized no other software met his needs, it has evolved into a full blown firearm dashboard based on the feedback of its users through online forums and other communities. For more information, please visit http://MyGunDB.com.