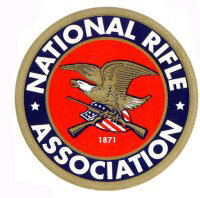 FAIRFAX, Va. –-(Ammoland.com)- In recognition of National Safety Month's goal to educate and influence behaviors on preventable injuries, the National Rifle Association is highlighting its three principal Gun Safety Rules.
Whether you own a firearm or not, these fundamental rules of safe gun handling may be applied in any situation where one is present.
Always keep the gun pointed in a safe direction.
This primary rule of gun safety ensures a firearm will not harm you or others if it goes off. Use common sense to dictate the safest direction. When outdoors, point the gun toward the ground or towards the target. If you are indoors, be mindful that a bullet can penetrate ceilings, floors, walls, windows, and doors.
Always keep your finger off the trigger until ready to shoot.
When holding a gun, rest your finger on the trigger guard or along the side of the gun. Do not touch the trigger until you are ready to fire.
Always keep the gun unloaded until ready to use.
Immediately engage the safety device, remove the magazine, open the action and check the chamber(s) when you pick up a gun. If you do not know how to open the action or inspect the chamber(s), leave the gun alone and get help from someone who does.
"Our Gun Safety Rules have been honed over 140 years to be easy to understand and remember, ensuring the highest possible level of firearm safety," said Bill Poole, Managing Director of NRA's Education and Training Division. "They are the first and most crucial step to being a responsible gun owner."
Visit http://training.nra.org/ to learn more about NRA safety programs and activities.