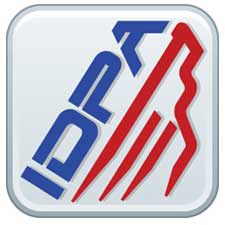 BERRYVILLE, Ark. –-(Ammoland.com)- Winning five of 10 stages and shooting the fewest points down helped propel Team Panteao's Tom Yost to the Enhanced Service Pistol division title at the 17th Annual Massachusetts State IDPA Championship, presented by Smith & Wesson.
Yost, who finished the match with a final time of 186.03 seconds and just 31 points down, claimed not only the ESP title but also High Senior, High Industry and Most Accurate honors.
Sanctioned by the International Defensive Pistol Association (IDPA) the Massachusetts State IDPA Championship was held Saturday and Sunday, June 1-2, at the Rod & Gun Club of New Bedford located in North Dartmouth and drew 120 competitors.
Finishing first Master behind Yost was Joe Linskey who won two stages and took High Law Enforcement with 194.99 seconds and 44 points down. Third in the division went to Craig Phillips, the second Master, with 208.05 (31) followed by Brian Steskla, third Master, with 208.74 seconds, 70 points down and one stage win, and Dave Solimini, fourth Master, with 217.34 (57).
Elsewhere in the division, Richard Barker finished first Expert with 237.88 (83) and claimed High Military Veteran as well as one stage win. Bill Thorpe took first Sharpshooter with 227.32 (42). Joe Parks finished first Marksman with 324.06 (91). Judith Szczygiel, an Expert class shooter, won High Lady with 313.35 (101) while Duncan McNaughton, a Sharpshooter, took High Junior with 311.01 (104).
Complete, searchable match results can be found online at IDPA.com.
For more information on IDPA, the 17th Annual Massachusetts State IDPA Championship presented by Smith & Wesson, or to join the more than 22,000 members competing each week all across America, visit www.IDPA.com.
You can further connect with the IDPA community through IDPA's social media, such as @OfficialIDPA on Twitter and ShootIDPA on Facebook, Instagram, Pinterest and Tumblr, or check for regular news and updates on the organization's DOWN ZERO Blog.