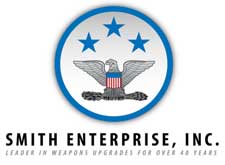 TEMPE, Ariz., –-(Ammoland.com)- Smith Enterprise is rolling out with a new M14 flash hider model called the G6A3 M14 Vortex Flash Hider.
The flash hider consists of an external thread designed to mitigate carbon buildup when a Wind Talker sound suppressor is installed. With these new external flash hider threads, the user can easily unscrew the Wind Talker sound suppressor with ease – even after thousands of rounds have been fired.
While Smith Enterprise already makes an AR15 flash hider with an external thread feature for its AR15 flash hider model (also compatible with the M16 and M4). Applying this flash hider technology to the M14 is the next step. Smith Enterprise is the leading provider of M14 upgrades in the country, and a quick search on Google shows that Smith Enterprise makes the best flash hider. Smith Enterprise makes mounts, bipods, scope rings, flash hiders, muzzle brakes, sound suppressors, slings, front sights, rear sights, trigger assemblies, cheek pads, bolt stops, and several other premium parts for theM14.
When Ron Smith was asked about this new product, he stated:
"This is just the beginning. We have many more innovations to come. We have new technologies for flash hiders, sound suppressors, and other accessories. This M14 improvement is important right now because so many people are interested in M14s and we want to take care of our customers."
Smith Enterprise also rebuilds M14 rifles into the "M14Crazy Horse". The upgrade features a multitude of changes and upgrades making an already good rifle into a premium collector's item that is very accurate and lasts a lifetime. The new Crazy Horse builds will include the G6A3 M14 Vortex Flash Hider model. Customers can still select the old G6A2 model if they prefer.
Smith Enterprise will extend this new G6A3 external thread flash hider technology to all its Vortex flash hider models eventually, but not until they are ready for release."
Sincerely,
Ron Smith
President
Smith Enterprise, Inc.