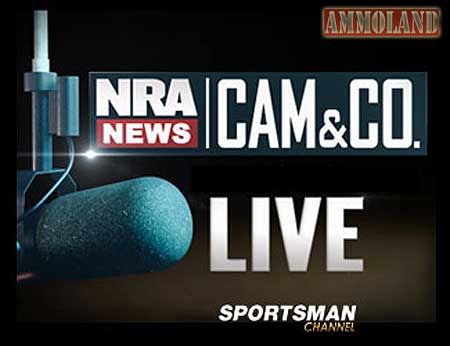 New Berlin, Wis. –-(Ammoland.com)- Sportsman Channel's ground-breaking news-talk television series—NRANEWS Cam & Co.—is celebrating its 100th episode Monday, June 3 with a lineup of high-profile and entertaining guests for the most informed hour on TV.  NRANEWS Cam & Co. airs exclusively on Sportsman Channel on Mondays at 5pm ET/PT.
The hour-long show will feature Emily Miller of the Washington Times, Senator Ted Cruz, Senator Lindsey Graham, Representative Paul Gosar, and Representative Blake Farenthold. Also appearing is Tom McMillan, star of the new Sportsman Channel series "Meet the McMillans." To commemorate this special episode, Sportsman's reality-adventure stars Chris & Casey Keefer are announcing the new location of their award-winning series, "Dropped" LIVE on air.  Plus, don't miss Cam's expert and entertaining perspective on daily news and issues related to American traditions, freedom, and rights.
"We congratulate Cam and his talented crew for putting together a great hour-long show five days a week that speaks the voice of the American sportsman," said Graig Hale, VP of Business Development for Sportsman Channel. "They are breaking barriers by hosting a live show in the outdoor genre and we are proud their home is Sportsman Channel."
Hosted by Cam Edwards, and airing live from the NRA News Studios in Washington, D.C., NRANEWS Cam & Co. is the one and only news-talk series on television that can authoritatively address the issues that are vital to America's more than 80 million sportsmen and sportswomen. Sportsman Channel is a national television network focused on hunting, shooting and fishing programming. Edwards, an engaging radio personality, insightful interviewer, sportsman and shooting enthusiast, brings a completely unique perspective and intelligence that does not exist anywhere else on news-talk TV.  Together with his special guests, the show explores the day's current events, breaking news and much more.
About Sportsman Channel: Launched in 2003, Sportsman Channel, and Sportsman HD, is the only television and digital media company fully devoted to sportsmen in the United States, delivering entertaining and educational programming focused exclusively on hunting, shooting and fishing activities. Sportsman Channel reaches more than 32 million U.S. television households and is available in HD. Visit www.thesportsmanchannel.com, follow on Twitter, @SPORTSMANchnl (twitter.com/SPORTSMANchnl) and Like on Facebook, facebook.com/sportsmanchannel