By Brian McCombie, SHWAT Pro Staff and NRA Field Editor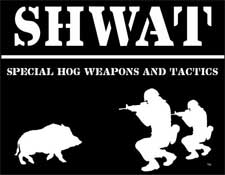 Abilene, Texas –-(Ammoland.com)- I'm very fortunate in that I get to travel around the country in search of great hog hunting destinations.
So I often get asked: Where's a really good place to go tactical hog hunting? A guided hunt, with good accommodations, where you know there are lots of hogs?
The Spike Box Ranch, in Benjamin, Texas, sits at the very top of my list.
There are plenty of reasons, as you'll see. Of course, putting pigs down is what it's all about in the first place, and Spike Box has never failed me or anyone else I know who's hunted pigs there. One time, after hesitating and letting a bore walk and still kicking myself for not shooting, scanning the mesquite without luck, when I heard the tell-tale squeals of a sounder of young hogs.
They trotted right down the exact same trail as the lone boar, over a dozen younger hogs, noisy, jostling each other.
Opportunity just kept knocking. But there's a lot more to Spike Box, and you owe it to yourself to keep reading to find it out…
Read the rest: http://tiny.cc/dd1xyw
About Special Hog Weapons & Tactics:
SHWAT is the new center of gravity for tactical hog hunting. Special Hog Weapons & Tactics is a dynamic, game changing lifestyle brand, fusing together the tactical, hunting and feral hog control communities. Quality content and connections are rapidly coming together through partnering with credible industry professionals. Vendors are licensing the SHWAT brand. Conversations are growing on Facebook, Facebook.com/SHWATteam. That quality extends from our community and contributors, including our sponsors and writers, bloggers and videographers. Visit: www.shwat.com