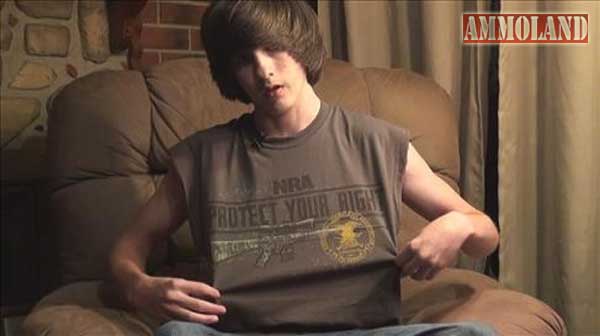 West Vriginia –-(Ammoland.com)- WOWK has been the only news outlet following every new development in the case of Jared Marcum, the Logan County, West Virginia student who was suspended, arrested and is now facing an obstruction charge after refusing to change his NRA shirt at school. On Monday morning, June 24 2013, Jared's case took yet another turn.
Nearly two weeks before Jared, the 14-year-old at the center of the "T-Shirt Control Controversy", was scheduled to be back in court, he found himself inside of the Logan County Courthouse for an emergency gag order hearing requested by prosecutors Christopher White and Sabrina Deskins.
"We were here because the prosecution filed a motion for a gag order," Jared's attorney Ben White said. "My opinion is because, seemingly, they want to take it out of the court of public opinion."
Prosecutors were hoping to bar Jared, his father and his lawyer from sharing their story with the press, under the guise that their request would serve Jared's better interest, something Jared's father Allen Lardieri sees as ironic.
"It was for Jared's better interest is what I was told, which seems to be a bit odd to me," Lardieri said. "These are the same individuals that are trying to prosecute him, so as far as them knowing what is in his better interest, I have a lot of questions about that."
Reporter Charlo Greene, on behalf of WOWK and the free press, prepared a petition to intervene for the gag order hearing but before Charlo could present her argument or even deliver her petition to the court clerk, she was thrown out of the Logan County Courthouse, twice, by a bailiff, who said the judge presiding over Jared's case, Eric O'Briant requested it. Charlo was then threatened with arrest and the same charge that Jared is currently on trial for, "obstructing an officer".
Meanwhile, Jared met with prosecutors who withdrew their petition for a gag order, on the condition that Jared's parent waive the confidentiality that bars the prosecution from speaking freely about his case, due to him being a minor.
Read More Here: http://tiny.cc/ezc9yw