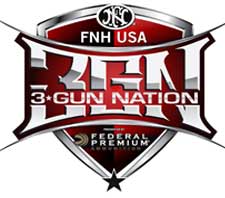 USA –-(Ammoland.com)- Miss the season premiere of "3-Gun Nation?"
The be sure to tune into Sportsman Channel Thursday at 10 PM EST and check out the most exciting shooting sport on television—the 3-Gun Nation Pro Series Tour.
See an encore performance as the Top 30 competitors on the FNH USA 3GN Pro Series Tour, presented by Federal Premium Ammunition, converge on Las Vegas for the 2013 3GN Championship.
Watch as the best 3-gunners in the country battle through the 3-Gun Nation Shoot-Off, an all-out race to the stop plate featuring rifle, shotgun and pistol shooting.
A man-versus-man tournament, the winner will claim the title of 3-Gun Nation Champion and take home the grand prize—$50,000, courtesy of Leupold Tactical Optics and NRA Sports.
See top pros such as Daniel Horner, Keith Garcia, Taran Butler, Mark Hanish, Mike Voigt, Barry Dueck, Jesse Tischauser—and more—fight to advance through the most grueling tournament in all of practical shooting.
For more information on 3-Gun Nation, or to find a 3GN match near you, go to www.3GunNation.com.