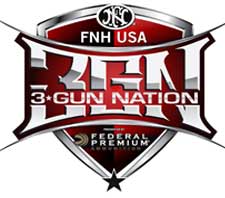 USA –-(Ammoland.com)- This week on "3-Gun Nation," its all about new blood challenging the establishment, as 30 hopefuls travel to St. Augustine, Florida for the 3-Gun Nation Pro Series Qualifier Match.
Battling for one of 16 coveted slots for the 2013 FNH USA 3GN Pro Series Tour, presented by Federal Premium Ammunition, the action is tense as both veteran and up-and-coming competitors alike stake their claim for a shot at the only professional shooting league in the game.
Watch exciting young talent such as Ravin Perry, Rob Tate, Joel Turner and Josh Knotts push their game to the limit to earn a slot on the tour.
Meanwhile, follow the story of wounded Marine Corps veteran Sgt. James Gill, who after losing a leg and suffering blindness in one eye, has a chance to qualify against the best in 3-gun. Finally, check out 18-year-old Katie Harris as she strives to be the only female running with the big boys on the 3GN Pro Series Tour.
Also, the FNH USA Shooting Tip, with country music artist Mark Wills, returns, while a new gear segment sponsored by Cheaper Than Dirt!, and hosted by pro 3-gunner Patrick Kelley, gives insight on all the latest guns and gear used by top competitors today.
So tune in to Sportsman Channel Thursday at 10 PM EST for the latest all-new episode of "3-Gun Nation."
For more information on 3-Gun Nation, the sport of 3-gun, or to find a 3GN match near you, go to www.3GunNation.com.