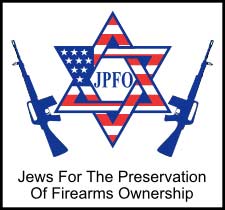 Washington, DC –-(Ammoland.com)- NOW — get a chance to own the rifle that makes a true statement about gun control.
Several people have asked "when is your next drawing?" – well, here it is!
This time we have four AR-15 rifles on offer (500 chances on each). These are DPMS AP-4's, flat top with detachable carry handle, 1 count 30 round magazine, and collapsible 6-position stock. Caliber .223 Rem/5.56 NATO.
These most politically incorrect rifles feature custom engraving with the JPFO logo and, our special message "Gun Control is Not Kosher" on the right side. Draws will be carried out in Arizona as soon as each block of 500 chances sells out.
If you wish, you can go direct to the JPFO store to purchase your chance, or chances. However, it is recommended that you first go read details as well as being able to see more pictures.
About:
Jews For The Preservation Of Firearms Ownership Mission is to destroy "gun control" and to encourage Americans to understand and defend all of the Bill of Rights for everyone. Those are the twin goals of Wisconsin-based Jews for the Preservation of Firearms Ownership (JPFO). Founded by Jews and initially aimed at educating the Jewish community about the historical evils that Jews have suffered when they have been disarmed, JPFO has always welcomed persons of all religious beliefs who share a common goal of opposing and reversing victim disarmament policies while advancing liberty for all.
JPFO is a non-profit tax-exempt educational civil rights organization, not a lobby. JPFO's products and programs reach out to as many segments of the American people as possible, using bold tactics without compromise on fundamental principles. Visit www.JPFO.org – Copyright JPFO 2011