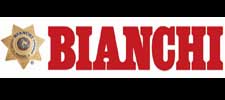 ONTARIO, California –-(Ammoland.com)- Bianchi excitedly announced today the launch of their new website design providing simple navigation, larger images and expanded holster fit information to enhance the overall user experience.
Key updates to the site include the integration of The Safariland Group's "Holster Finder" which has seamlessly increased the number of gun fits listed on the site.
With the increase in gun fit listing, an updated filtering system for holster selection has been incorporated and users can filter by several options, including the most frequently used: Gun Manufacturer and Gun Model.
All sections of the site have been updated and "Buy Now" links for holsters available on Holsters.com allow users to directly add items from the Bianchi website to a shopping cart on Holsters.com. As additional offerings are added to Holsters.com, they will also be displayed and linked from bianchi-intl.com.
The site has served to educate and inform users of the various product offerings and now has grown beyond that with the expansion of 'Holster Finder,' which allows you to easily search and select our trusted and high-quality products.
Look for additional updates, such as videos and additional product views, as the site continues to expand.  Visit www.Bianchi-Intl.com today.
About Bianchi
Bianchi has been a leading producer of holsters and accessories for the concealment, sporting, law enforcement and military markets worldwide for more than 50 years.  From premier leather products including Bianchi Cowboy, to the ruggedly durable AccuMold and PatrolTek lines, Bianchi products are known for their time-proven designs, quality and longevity. Bianchi is a part of The Safariland Group family of brands. For more information, visit www.bianchi-intl.com.
About The Safariland Group
The Safariland Group is a premier global provider of trusted, innovative, high-quality law enforcement and security products for the public safety, military and outdoor/personal protection markets. Offering many of the world's most recognizable names in these markets, principal brands include Safariland®, ABA®, Second Chance®, Bianchi® and Break Free®.  Forensics brands include Identicator® and NIK®.  The Safariland Group's mission, Together, We Save Lives™, is inherent in the life-saving products it delivers. The Safariland Group has its headquarters in Jacksonville, FL. For more information about The Safariland Group and its brands, please visit www.safariland.com.
The Safariland Group is a trade name of Safariland, LLC.