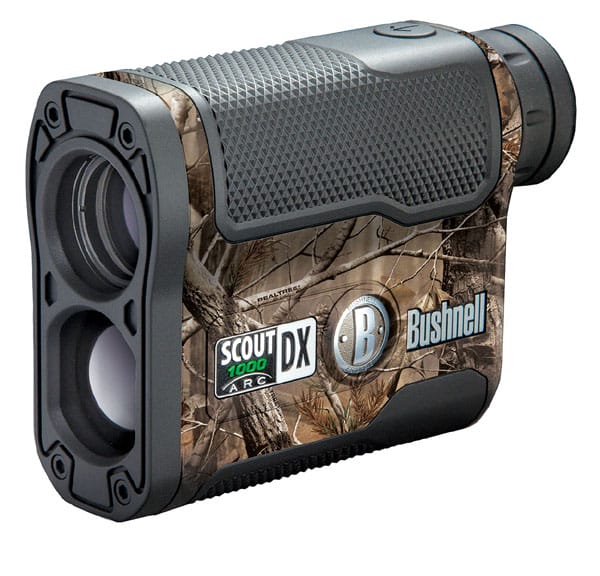 Overland Park, Kan. – The new Scout DX 1000 ARC laser rangefinder from Bushnell offers hunters and shooters a host of features that will help them identify and range targets quickly. The Scout DX 1000 provides accurate distance readings from 5-1000 yards with +/- ½ yard accuracy.
Featuring the new E.S.P.TM processor from Bushnell, Scout DX 1000 provides faster and more precise distance readings than ever before, including 1/10th yard display precision within 125 yards. Featuring the patented Angle Range Compensation (ARC) technology, the Scout DX 1000 instantly accounts for terrain angles to provide bow hunters with the "shoots like" distance and rifle hunters with holdover data in inches, centimeters, MOA or MILs. In addition, the rangefinder includes Variable Sight-In Distance (VSI), providing shooters with holdover data based on a 100, 150, 200 or 300 yard zero.
With three modes of operation – Scan, BullsEye and Brush – the Scout DX 1000 is just as effective in the woods as it is on the open plains. And with a six power magnification optic, hunters and shooters will have no problem identifying and ranging targets at long ranges.
The rangefinder features a slim vertical design that's protected with a rugged, waterproof housing. The Scout DX 1000 includes a neck strap and carrying case, and is available in both black and the new Realtree Xtra pattern for $299.99 and $319.99, respectively.
With the new Bushnell Bulletproof Guarantee, the Scout DX 1000 ARC is backed with a no questions asked 100 percent money-back guarantee. Within one year of the date of purchase, if for any reason the consumer isn't completely satisfied with the laser rangefinder, it can be returned to Bushnell for a full refund.
Bushnell Outdoor Products is a global manufacturer and marketer of branded consumer products. Headquartered in Overland Park, Kansas, the company sells its products worldwide under the Bushnell®, Bee Stinger, Butler Creek®, Final Approach®, Gold Tip, Hoppe's®, Millett®, Night Optics, Primos®, Simmons®, Stoney Point®, Tasco®, Uncle Mike's®, Uncle Mike's Law Enforcement®, and the following eyewear brands: Bollé®, Cébé® and Serengeti®. For information about any of these brands or products, please contact Bushnell Public Relations at (913) 752-6105.