Banded Productions and Chad Belding from The Fowl Life Meet Up With MOJO Outdoors, and Soar No More to Hunt Pigeons and Waterfowl in Idaho!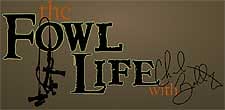 New Berlin, Wis. –-(Ammoland.com)- Waterfowl hunting guru Chad Belding from 'The Fowl Life' set his sights on something a little bit different on this week's episode.
The guys will be sharing a blind with MOJO Outdoors, and Soar No More to decoy pigeons in Idaho. Staying true to his roots, Chad would return later that season for one of his favorite hunts, ducks and geese on the Snake River!
"The Fowl Life" is a highly entertaining, and educational look at waterfowl hunting. The cameras roll nonstop to show not only the hunt, but also the trials and tribulations associated with this highly demanding sport! This reality based show is all about the workingman, and his passion for the outdoors and the desire to share the experiences with the world.
Episode 4 Season 5 of The Fowl Life is truly a "mixed bag" the guys would start out helping ranchers control their pigeon populations, while sharpening their skills behind the Escort Shotguns! While shooting pigeons is fun, Chad could not pass up an invite to hunt waterfowl in one of his favorite states to hunt as well.
"Extending my hunting season is always on my mind, I simply love being in the outdoors, from waterfowl, coyotes, turkeys, big game, and now pigeons, I really feel like I have all my bases covered for the year! I really enjoyed hunting pigeons, but in the back of my mind I was thinking about cold temps, blue skies and greenheads bombing into my spread on the Snake River!" Belding said.
Sportsman Channel Air Times (EST)
Saturday – 2:00pm
Tuesday – 12:00pm
Monday – 2:30am
Channel Guide: The Show can be found on DIRECTTV channel 605, Dish Network channel 285 or 395 and AT&T U-Verse Channel 642. Check you local provider for local cable channel number.
About Chad Belding: Chad Belding's success started with his reality hunting show called 'The Fowl Life with Chad Belding' which launched on Sportsman Channel and WILD TV in 2008, and airs in more than 40 million homes in North America. Fans across the nation have watched as Belding and his crew hunt in more than 15 states across the U.S., incorporating a local guest in each location who offers advice on their local hunting ground and participates in the hunt. Now approaching season five, 'The Fowl Life with Chad Belding' is a must-see reality series for hunters across the nation. Belding also has a show focused on predator hunts and wildlife conservation called 'Dead Dog Walkin' which began airing on the Sportsman Channel and WILD TV in March of 2011.
About Banded Nation: Launched in January 2011, Banded Nation is comprised of hunters, editors, graphic designers, producers, videographers, and on-camera personalities dedicated to bringing a new approach to outdoor television and outdoor style. Banded Nation was founded by renowned outdoor hunting show host Chad Belding and acts as the parent company to a wide variety of properties including Sportsman Channel and WILD TV's award winning national television series 'The Fowl Life with Chad Belding,' Dead Dog Walkin', 'The Syndicate,' Banded, Banded Fusion, Banded University, Banded Hunts, and Banded Gear. Visit www.bandednation.com for more information