Video 5: Introducing an E-Collar and Formal Obedience.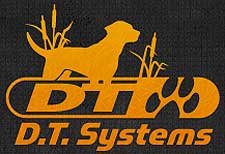 Dallas, TX. —(AmmoLand.com)- In the fifth installment of training videos, D.T. Systems Pro Staff member Dan Ihrke shows how to properly introduce an E-Collar to D.T. the Dog.
Dan uses the vibration feature on the D.T. Systems Micro iDT Collar to move D.T. the Dog into more advanced obedience training.
The small size of the Micro iDT collar allows Dan to begin training D.T. the Dog more efficiently. Dan covers the steps necessary to transition D.T. the Dog into a higher level of obedience understanding.
Viewers will be able to follow along as D.T. the Dog is trained from a puppy to expert hunting dog, while picking up valuable information and training tips they can apply to their training regimen. Trained by D.T. Systems Pro-Staff member and distinguished dog trainer, Dan Ihrke, D.T. the Dog is a Fox Red Labrador Retriever that will serve as the star of the video series.
Follow along with the monthly installments by signing up for the monthly newsletter here. The video series can also be seen on the D.T. Systems website and Facebook page.
To learn more about D.T. System Products and its complete line of dog training products, visit www.dtsystems.com.