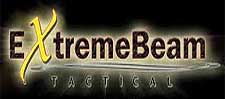 USA –-(Ammoland.com)- The ExtremeBeam Sport-Tac Industrial Lighting Company Releases The New, Model M1000 Fusion with 5.5mm Walls and a range well over 500 Meters
ExtremeBeam has a long history of overbuilding its lights to be tough enough for the unexpected. But just when it looked like being one of the strongest built flashlights in the history of man, was enough, ExtremeBeam's engineers have just released a Bohemoth of a light that is tougher than any light we have ever tested in our laboratories. What makes it even more special, is that it's ¼ the price of lesser quality, lesser performing, lesser durable lights from ExtremeBeam's top competitors….."That's the advantage of being a real manufacturer", say their founding engineers, who together also designed the new Fusion.
The new ExtremeBeam M1000 Fusion, as its known, was shown on YouTube crushing through a code- built double layer wall in a rescue scenario, face first, suffering no damage. The exceptionally strong 5.5mm 6061 aircraft aluminum walls, paired with a new dual-pin Anti-Recoil™ system built inside, and an exceptionally strong tri-cut glass face, make this flashlight virtually indestructible and capable of withstanding extreme temperatures and hard core impacts. And with a limited lifetime warranty which covers destruction, this bad-boy is a light every EMS technician, security guard or field officer, should not be without.
The single HO LED puts out a whopping 850 lumens. But what is even more surprising is that due to ExtremeBeam's revolutionary extreme-precision machined aluminum reflectors, the M1000 Fusion outperforms lights up to 2400 lumens in range and efficiency testing, making it one of the farthest reaching focusable flashlight ever created.
This heavy duty light was designed to far exceed military spec standards with it's 30mm OD body and dual Anti-Recoil system allowing for weapon mounting up to .50 cal full auto BMG.
The .50cal BMG rating is in fact ExtremeBeam's trademark of durability for their full line of standard sized flashlights. But the M1000 Fusion takes this recoil-pounding core engineering to a new and extreme standard beyond anything we've ever seen before.
The M1000 Fusion's power system is well-regulated, allowing the operator to run the light on a variety of lithium non rechargeable or rechargeable batteries, from 4 CR123 non rechargeables to 2 18650 rechargeables; All with flatline reliable performance, runtimes up to 10+ hours in the 500 Lumen low mode, and this light doesn't even get hot in the hands no matter how long its on.
The tri-mode circuit allows for high, low or a mind disorienting hiper-flash modes. And with the slight spread of the beam, an entire mass of area can be lit up like daylight.
The ExtremeBeam M1000 Fusion is also waterproof, and designed for extreme high and low temperatures making this the ideal flashlight for firefighters or sportsman alike who expect they may encounter such extreme conditions.
Simply put, the M1000 Fusion is one of the most powerful super-duty flashlights ever built in the history of man, and one only needs to own one to become a believer.
ExtremeBeam protects their flashlights with a Lifetime Warranty which even covers Combat Abuse. Run it over with a tank and they replace it. They are available at reputable Outdoor and Sporting goods stores and dealers World-Wide.
Shop the ExtremeBeam M1000 Fusion Flashlight on Amazon: http://tiny.cc/d4jo0w
For more information contact Public Relations Manager, Andrew Washburn at [email protected] or visit ExtremeBeam's corporate website at http://buyextremebeam.com/
"The New World Leader in Sport Tac Industrial Grade Flashlights." ExtremeBeam….The Extreme-Beam-Machine