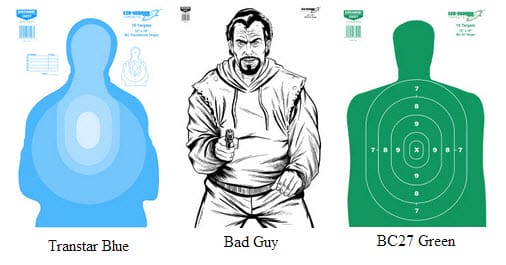 Eden Prairie, MN –-(Ammoland.com)-  The new Eze-Scorer Silhouette Targets from Birchwood Casey offer shooters a great practice option at an affordable price.
Eze-Scorer Silhouette Targets are non-reactive paper targets that can be easily mounted on any proper backstop. Two 12"x18" and two 23"x35" targets are available.
The 12"x18" versions include a Transtar Blue and BC27 Green. An illustrated BC Bad Guy and BC27 Green are available in the 23"x35" targets.
Eze-Scorer 12"x18" Silhouette Targets come in packs of ten for a suggested retail price of $4.20. The 23"x35" BC Bad Guy is available in multiples of 100 for $1.40 per target.
The BC27 Green 23"x35" targets come in packs of five for $7.50, or in multiples of 100 for $1.40 per target.
Visit the Birchwood Casey website at www.birchwoodcasey.com, write to 7887 Fuller Road, Ste. 100, Eden Prairie, MN55344 or call 800-746-6862 for more information.