Overland Park, Kan. (AmmoLand.com)— Final Approach, a reputable leader in the waterfowl industry since 1993, has introduced two new Puddle Pack Combo sets designed for the Central-Pacific and Mississippi-Atlantic flyways. Each pack includes six flyway-specific floating duck decoys, with three duck species per pack and a hen and drake decoy from each species.
Final Approach decoys are custom-designed to provide outstanding definition and realism in the field. Custom-quality, highly visible paint schemes and highly realistic texture and feather detail set Final Approach decoys apart from other products on the market.
Designed for the Central-Pacific flyway, this combo pack contains Pintail, Widgeon and Teal decoys, with one drake and one hen from each species. The second pack, designed for the Mississippi-Atlantic flyway, contains Gadwall, Wood Duck and Teal, with one drake and one hen from each species.
With an anatomically correct one-piece construction that incorporates the head and weighted keel, the floating duck decoys are simple, durable and designed to perform season after season.
Both Puddle Pack Combo six-pack sets have an MSRP of $96.95, with the Mississippi-Atlantic pack available in August and the Central-Pacific pack available in September.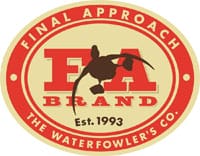 Bushnell Outdoor Products is a global manufacturer and marketer of branded consumer products. Headquartered in Overland Park, Kansas, the company sells its products worldwide under the Bushnell®, Bee Stinger, Butler Creek®, Final Approach®, Gold Tip, Hoppe's®, Millett®, Night Optics, Primos®, Simmons®, Stoney Point®, Tasco®, Uncle Mike's®, Uncle Mike's Law Enforcement®, and the following eyewear brands: Bollé®, Cébé® and Serengeti®. For information about any of these brands or products, please contact Bushnell Public Relations at (913) 752-6105.