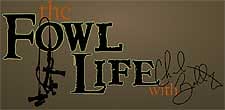 New Berlin, Wis. –-(Ammoland.com)-  Waterfowl hunting guru Chad Belding from 'The Fowl Life' had the opportunity to hunt with some truly great fans this past season!
As sharing the outdoors tends to do, all have become great friends. These hunts and experiences have forged memories that will last a lifetime for all those involved!
"The Fowl Life" is a highly entertaining, and educational look at waterfowl hunting. The cameras roll nonstop to show not only the hunt, but also the trials and tribulations associated with this highly demanding sport! This reality based show is all about the workingman, and his passion for the outdoors and the desire to share the experiences with the world.
Episode 3 Season 5 of The Fowl Life is full of great goose hunting with a couple groups of fans, who we are now proud to call friends! Our good buddy and country musician Leith Loftin drops by for a concert right in the lodge, and get suckered into helping out! Good friends, good music, and a pile of empty shells, what more could you ask for?
"Almost every group I take to Central Kansas Outfitters has a great time, and we part ways friends. But this group of guys was different; we all clicked right away, and it was like hunting with 10 of your best buddies back home! Having old Leith in camp was fun as heck as usual!" Belding said.
Sportsman Channel Air Times (EST)
Saturday – 2:00pm

Tuesday – 12:00pm

Monday – 2:30am
Channel Guide: The Show can be found on DIRECTTV channel 605, Dish Network channel 285 or 395 and AT&T U-Verse Channel 642. Check you local provider for local cable channel number.
About Chad Belding: Chad Belding's success started with his reality hunting show called 'The Fowl Life with Chad Belding' which launched on Sportsman Channel and WILD TV in 2008, and airs in more than 40 million homes in North America. Fans across the nation have watched as Belding and his crew hunt in more than 15 states across the U.S., incorporating a local guest in each location who offers advice on their local hunting ground and participates in the hunt. Now approaching season five, 'The Fowl Life with Chad Belding' is a must-see reality series for hunters across the nation. Belding also has a show focused on predator hunts and wildlife conservation called 'Dead Dog Walkin' which began airing on the Sportsman Channel and WILD TV in March of 2011.
About Banded Nation: Launched in January 2011, Banded Nation is comprised of hunters, editors, graphic designers, producers, videographers, and on-camera personalities dedicated to bringing a new approach to outdoor television and outdoor style. Banded Nation was founded by renowned outdoor hunting show host Chad Belding and acts as the parent company to a wide variety of properties including Sportsman Channel and WILD TV's award winning national television series 'The Fowl Life with Chad Belding,' Dead Dog Walkin', 'The Syndicate,' Banded, Banded Fusion, Banded University, Banded Hunts, and Banded Gear. Visit www.bandednation.com for more information