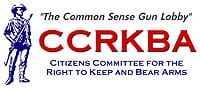 BELLEVUE, WA – -(Ammoland.com)- Illinois Gov. Pat Quinn evidently believes someone elected him emperor of the Prairie State, considering his meddling with the state's concealed carry legislation today, the Citizens Committee for the Right to Keep and Bear Arms said in reaction.
Gov. Quinn, using his amendatory veto authority, inserted his own gun control provisions in legislation adopted last month, including limiting the places where someone may carry, the number of cartridges someone can have in a defensive firearm and the level of concealment one must exercise, all in excess of the legislation passed by the State Legislature last month.
"This isn't government of, by or for the people," said CCRKBA Chairman Alan Gottlieb. "This is government by imperial fiat."
State lawmakers have until July 9 2013 to override Quinn's changes in the legislation, due to a federal court order secured in Moore v. Madigan, a case brought by CCRKBA'S sister organization, the Second Amendment Foundation.
"Quinn has taken it upon himself to dictate the level of safety a citizen can enjoy by placing an undue limit on the right to bear arms," Gottlieb said. "Perhaps he should ask police officers to leave their spare ammunition at home.

"He wishes to stigmatize legally-armed citizens by making it nearly impossible for them to dine out with their families, friends or business associates," he continued. "He puts the burden on business owners, churches and other venues to assure the court's mandates are followed regarding the carrying of firearms.

"Quinn is playing petty politics with the lives of his constituents," Gottlieb asserted, "and we hope Illinois lawmakers have the intestinal fortitude to override him when they return to Springfield next week for a one-day session."
With more than 650,000 members and supporters nationwide, the Citizens Committee for the Right to Keep and Bear Arms is one of the nation's premier gun rights organizations. As a non-profit organization, the Citizens Committee is dedicated to preserving firearms freedoms through active lobbying of elected officials and facilitating grass-roots organization of gun rights activists in local communities throughout the United States. The Citizens Committee can be reached by phone at (425) 454-4911, on the Internet at www.ccrkba.org or by email to [email protected]