This event is 2A FlashMob Approved, anyone attending will automatically qualify for their own FREE 2A Mob Patch.
Missoula, MT –-(Ammoland.com)- Okay folks, here's our tentative Plan for the Bloomberg anti-gun show protest at the University of Montana.
We will meet up at the parking lot behind (east of) the University Center promptly at High Noon (12:00) on Thursday July 25th  2013.
If you're not familiar with the campus layout, the U. Center is near the base of Mount Sentinel, and about 200 yards south of the Adams Center (where the Missoula Gun Show is held). For a campus map, go to: https://map.umt.edu/
You will need to take Campus Drive around the base of the mountain to get there.
Parking: Parking is usually a bear on the U campus, but it shouldn't be bad during the summer. I am told that for many of the parking lots, a campus parking sticker is required. But, the lots East and North of the U. Center are metered lots. I presume that if you're willing to plug the meter, you don't need a permit. Bring quarters. I may get another email out tomorrow if I learn more about parking.
Dress: I'd like for us to look similar, and especially identifiably different than the few expected to support Bloomberg's anti-gun effort. I don't want the media to show our 100 and their 10 and claim 110 came to support Bloomberg's anti-gun efforts. I recommend that our folk wear white shirts or white T-shirts, white hats if possible, and a red bandanna if you have one.
Signs: Our theme will be "Guns Save Lives". Make a poster. If you Google for images of "Guns Save Lives" you will see other imagery that has been used. The first choice for colors will be red paint or ink on a white background. Make and bring one or more signs. Put them on a piece of wood lathe if you can. I have 21 wooden look-like "rifles" that I will bring and parcel out to interested attendees. A sign could be stapled to these.
Real Guns: No. There are questions about the legality of campus enforcement of their "gun free zone," but this event is not the time and place to challenge that policy. Bright-colored squirt guns would be great. Toy guns fine. But no real guns, please.
Info to bring: The MAIG folks will be reciting the names of people killed by illegal guns (including, they claim, one of the two Boston Bombers). We need to be prepared to read a LOT of names of people whose lives have been saved by guns. Please, copy a bunch of names (and city and state) from several copies of the Armed Citizen page of your American Rifleman or American Hunter, or from here: https://www.nraila.org/gun-laws/armed-citizen.aspx
I hope each person attending will bring a list of 20 to 50 names. You might also bring photocopies of your list to hand out to any attending media.
That's all for now. I'll probably get another alert out tomorrow as this crystallizes more.
Thanks in advance for your support.
Gary Marbut, President
Montana Shooting Sports Association
https://www.mtssa.org
Author, Gun Laws of Montana
https://www.MTPublish.com
About Montana Shooting Sports Association: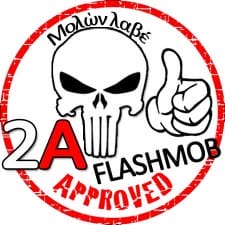 MSSA is the primary political advocate for Montana gun owners. Visit: www.mtssa.org
About 2A Flashmob: 
In an effort to motivate gun owners and Second Amendment Supporters to show up in person at important events and rallies AmmoLand Shooting Sports News is giving away FREE 2A Flashmob Patches to anyone who attends a protest, rally, open carry event, committee hearing at your state capital or a Moveon.org counter protest. (You may already be eligible)
Spread the word, get out, get active!