This event is 2A FlashMob Approved, anyone attending will automatically qualify for their own FREE 2A Mob Patch.
Colorado –-(Ammoland.com)- This Friday, July 19th, Mayor Michael Bloomberg's anti-gun group, Mayors Against Illegal Guns, will be doing a rally in Aurora as a part of their nationwide "No More Names" gun control tour.
Join us for a peaceful "counter-rally" with other gun rights supporters across the state to tell gun-grabber Bloomberg to keep his hands off of our Constitutional rights.
Here are the details:
Gun Rights Counter-Rally
Friday, July 19th 12:00 p.m.
Smoky Hill Shelter
Cherry Creek State Park (East Entrance)
4201 S. Parker Road
Aurora, Colorado 80014
For your information, there is a $9 fee per vehicle to get into the park, so please plan accordingly. There is free parking in a commercial area directly east of the park along Parker Road, but plan on wearing comfortable shoes if you plan on walking to Smoky Hill Shelter from there.
Smoky Hill Shelter is located on the east side of the lake and south of the swim beach.
Look for the RMGO Pinzgauer, and make sure to get one of our "I Will Not Comply" t-shirts too!
The "No More Names" event will feature readers that read aloud a list of the names of individuals who were killed by firearms.
If you have been following some of the news around this tour, then you know this is the same group that listed Tamerlan Tsarnev (the Boston Bomber) and Christopher Dorner (cop killer) as "victims" of gun violence.
With that, join us on Friday to show Bloomberg that the majority of Coloradans support the Second Amendment, not his radical East Coast anti-gun agenda.
For Freedom,
Dudley Brown
Executive Director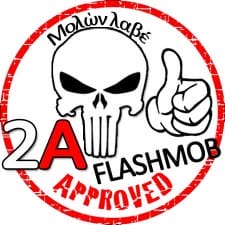 About:
Based in Colorado, Rocky Mountain Gun Owners is Colorado's largest state-based gun lobby. It is a group solely dedicated to the Second Amendment of the U.S. Constitution. Our strategy is simple: don't give an inch. Visit: www.rmgo.org
About 2A Flashmob: 
In an effort to motivate gun owners and Second Amendment Supporters to show up in person at important events and rallies AmmoLand Shooting Sports News is giving away FREE 2A Flashmob Patches to anyone who attends a protest, rally, open carry event, committee hearing at your state capital or a Moveon.org counter protest. (You may already be eligible)
Spread the word, get out, get active!