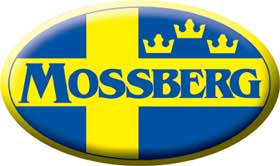 North Haven, CT –-(Ammoland.com)- O.F. Mossberg & Sons, Inc, America's oldest family-owned and operated firearms manufacturer, is pleased to announce the promotion of Tom Taylor to the position of Senior Vice President of Sales and Marketing and John MacLellan to the role of Vice President of Sales, effective July 8, 2013.
In addition to these management changes, Mossberg announces the hiring of Yim Szeto in the newly-created role of Marketing Coordinator.
Taylor brought 33 years of sales, marketing and product development experience, including 24 years of consumable goods management and 9 years in the firearm industry when he joined Mossberg in January 2009.  Serving as Vice President of Sales and Marketing, he strategically-built internal sales and marketing teams to strengthen the brand, expand the product base and focus on customer relationships in an ever-changing, competitive market.
MacLellan moves into his new role as Vice President of Sales after serving as Director of Sales for the past three years. He will continue his current sales responsibilities leading both company and manufacturers' sales representatives, as well as maintaining contact with Mossberg's distribution and retail customer base. MacLellan will also assume responsibility for leading Mossberg's customer service team.  Prior to joining Mossberg, MacLellan held sales management positions with Smith & Wesson and Andersen Windows, Inc. and served for six years with the Dover Police Department as a Sergeant in the Field Operations Division.
"Under the combined leadership efforts of Tom and John, Mossberg has experienced dynamic growth and strengthening of our brand and customer relationships," commented Paul Chartier, Executive Vice President. "Mossberg is pleased to recognize their accomplishments with these promotions as we continue to strengthen our management team."
Yim Szeto joins Mossberg as a key member of their marketing team.  In her role as Marketing Coordinator, Szeto will assume responsibility for trade and consumer shows, management of ecommerce efforts and work closely with the sales team in implementing Mossberg's Triple Crown Dealer and Distributor programs.  Szeto brings valuable experience from the retail and manufacturing industries to her new role.
About O.F. Mossberg & Sons, Inc.
Founded in 1919, O.F. Mossberg & Sons, Inc. is the oldest family-owned and operated firearms manufacturer in America, and is the largest pump-action shotgun manufacturer in the world. Leading the way with over 100 design and utility patents to its credit, and standing as the first ISO 9001 Certified long-gun manufacturer, Mossberg is considered to be one of the most innovative firearms manufacturers in U.S. history. For more information on commercial, special purpose, law enforcement and military shotguns, rifles and accessories, please visit their website at www.mossberg.com.