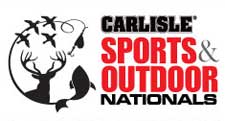 CARLISLE, PA –-(Ammoland.com)- During the weekend of September 6-8, 2013 at the Carlisle PA Fairgrounds, a new chapter in Carlisle Events history will be written with the first-ever Carlisle Sports and Outdoor Nationals taking place.
The event features family fun, displays, industry guests, interactive exhibits, demonstrations and more.  More importantly, the weekend caters to all branches of the sports and outdoor lifestyle.  In doing so, Carlisle Events proudly announces a partnership with the National Wild Turkey Federation to host its turkey calling and owl hooting championships.
As part of the onsite championships, participants will showcase their talents in front of a panel of experienced judges.  At that point, scoring takes place for each competitor.  Once all scores are tabulated and rakings determined, prizes will be awarded too.
"We (the NWTF) first heard about the Carlisle Sports and Outdoor Nationals after our decision to pull out of the Eastern Sports and Outdoor Show in Harrisburg," said Jerry Nelson, Michaux Yellow Breeches Chapter, National Wild Turkey Federation, Vice President.  "An associate of Carlisle Events contacted us and asked if we had interest in moving our booth footprint and annual contest to Carlisle for the new September event.  Needing a new venue and audience to showcase our organization and its members, the decision to align ourselves with Carlisle's new sports-and-outdoor-themed weekend was an easy one."
While the NWTF had a 25+ year history with its former home in Harrisburg, they looked at coming to Carlisle as a natural fit based on venue size and geographical location.
Nelson added, "The Carlisle Fairgrounds sits in our chapter's geographic footprint and we feel like we are coming home by setting up shop there."
Not only will coming to Carlisle help further the agenda of the NWTF, but also allows them to recruit new members.  With such a wide array of enthusiasts expected to attended, those passionate about the hobby can have face-to-face interactions with staffers from the NWTF too.  Best of all, with their onsite contests and available information, show goers and people with a wealth of knowledge regarding the Wild Turkey and on-going NWTF conservation initiatives can interact daily.
In addition to the "foul" sounds that will emanate from the onsite competitors, the NWTF will be offering multiple interactive kids activities.  These additional programs are designed to foster the growth of the hobby, increase interest with the future of the sport and in general, provide something fun for young enthusiasts to participate in.  A complete list of all weekend activities is available online via www.CarlisleSportOutdoor.com.  Finally, anyone interested in being a sponsor, vendor or guest can call 717-243-7855 for more information.
About Carlisle Events: Carlisle Events is a partner or producer of 17 annual collector car, truck, motorcycle and outdoor-themed events. Events are held at the Carlisle PA Fairgrounds (Carlisle, PA), Bloomsburg Fairgrounds (Bloomsburg, PA), Allentown Fairgrounds (Allentown, PA), Auburn Auction Park (Auburn, IN) and Festival Park (Zephyrhills, FL). The season schedule hosts a sports and outdoors event, seven automotive swap meets of varying size, six auctions, as well as individual specialty shows featuring Corvettes, Fords, GMs, Chryslers, trucks, motorcycles, imports and kit cars and tuner and modern customs. Founded in 1974 by friends Bill Miller and Chip Miller, events hosted at Carlisle attract more than a half a million enthusiasts annually from all corners of the globe. More information is available via www.CarlisleEvents.com.