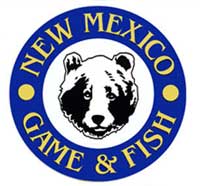 LAS CRUCES – -(Ammoland.com)- Six conservation officers were commended for their extraordinary efforts and attention to detail during a recent wildlife management project on Holloman Air Force Base near Alamogordo.
In a recent letter to Director Jim Lane, Commander Charles W. Webb, Jr., Col, USAF, wrote, "I would like to personally thank you for the outstanding support your officers provided on our recent oryx depredation hunt. The hunt was very successful in helping to mitigate risk on future tests at the Holloman High Speed Test Track. The planning and coordination were perfect."
Because of the presence of oryx on the base, a management hunt was implemented to help reduce risk during future missile operations. Department officers escorted hunters to ensure the safety of the operation.
Commander Webb also wrote, "I would like to thank Officer Jason Kline for his dedicated assistance. His extraordinary efforts and attention to detail ensured the mission was conducted in a safe and efficient manner. The following officers were also critical in supporting this effort: Curtis Coburn, Josh Waldrip, Mark Holguin, Logan Vanlandingham and Michael Perry. It's no wonder New Mexico is very sportsman's dream with such capable employees."
To learn more about becoming a conservation officer, please visit the Department website at www.wildlife.state.nm.us.