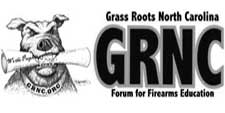 North Carolina –-(Ammoland.com)-North Carolina you won a great victory today.
Despite opposition by the North Carolina Sheriffs' Association and equivocation by members of Republican leadership, House Bill 937 ("Amend Various Firearms Laws") yesterday passed from conference committee and was approved by both the NC House and Senate and represents the most sweeping gain for gun rights in North Carolina history.
It now heads for Governor Patrick McCrory, who may sign or veto the bill, or simply allow it to lie on his desk, in which case it becomes law thirty days after the General Assembly adjourns.
As GRNC demanded of leadership, all aspects beyond the purchase permit repeal remain intact, including:
Restaurant carry;
Limited campus carry (permit-holders may keep guns in locked vehicles on any publicly controlled campus, plus an improvement that specifically allows guns to be removed from those vehicles if necessary for self-defense, plus faculty members without concealed handgun permits may);
Assemblies for which admission is charged;
State parking lots;
Hunting with suppressors;
Privacy provisions for concealed handgun and purchase permits to prevent media abuses; and
Language to clarify and narrow the "recreational facilities" within municipal parks where cities may still ban guns.
Pistol Purchase Permit Burdens Lowered
Although full repeal of the Jim Crow-era pistol purchase permit law did not remain in the bill, thanks to your input and the efforts of Senator Buck Newton (R-Johnston, Nash, Wilson, GRNC ****), the following improvements were made:
Prohibits sheriffs from limiting the number of permits issued;
Prohibits additional fees for permits;
Requires sheriffs to list statutory reasons for denial;
Requires sheriffs to keep de-identified records on why permits are denied; and
Places the burden on sheriffs to revoke permits from those commit disqualifying offenses.
Help GRNC Prepare for the Next Stage!
Frankly, it has been quite a battle. Between radio spots, mailings, $3,000 per month bills to send alerts (no, sending alerts to 87,000 people can't be done for free), and more, GRNC has spent nearly $40,000 on just the HB 937 campaign. We need your help to prepare for the next stage.
We need you to do two things:
Sign GRNC's petition to induce McCrory to sign the bill by
CLICKING HERE : http://grnc.org/pass-h937
Help GRNC "load magazines" by
CLICKING HERE: http://www.grnc.org/join-grnc/contribute
We are close to the goal of passing HB 937. Please help us cross the finish line!
Armatissimi e liberissimi, F. Paul Valone President, Grass Roots North Carolina
P.S. Please help GRNC continue to be the most effective gun rights organization in North Carolina history by donating $50, $25, or even $10. As always, GRNC will put your donation to more efficient, effective use than any other organization.
About:
Grass Roots North Carolina/Forum for Firearms Education is a non-profit, all volunteer organization devoted to educating the public about trends which abridge the freedoms guaranteed by the Bill of Rights, and engaging in grass roots activism to preserve those freedoms. Formed in 1994 to conduct a highly successful rally for the Second Amendment, GRNC has gone on to conduct projects like "Remember in November: A Gun Owner's Guide to Voting," bringing concealed carry to North Carolina. Visit:www.grnc.org