Sportsman Channel Registers Another #1 Rating Position with News-Talk TV Series NRANEWS Cam & Co.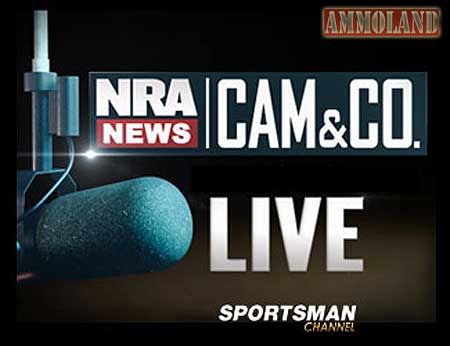 New Berlin, Wis. –-(Ammoland.com)- Sportsman Channel, the leader in outdoor television for the American sportsman, announced that its ground-breaking, news-talk television series — NRANEWS Cam & Co.— continues to perform strongly and resonate with viewers as the show scored the No. 1 Nielsen ranking in the key M25-54 demo* for its July 5th broadcast.
The show was also the No. 2 Nielsen ranking for the M18-49 demo.*
"Cam & Co. continues to pull in viewers daily as the show smartly discusses topics that are vital to the lifestyle of a vast audience of Americans," said Gavin Harvey, CEO of Sportsman Channel. "The series evolves daily as it leads the way tackling the day's news and issues head-on – and in turn helps Sportsman tackle much larger networks."
Hosted by Cam Edwards, NRANEWS Cam & Co., provides facts, informed opinion, and dialogue about the cultural, social and political issues vital to people who celebrate traditional American values such as freedom, self-reliance, outdoors, and military service. The nation's only news-talk series of its kind, Cam & Co. airs LIVE weekdays from 5-6pm ET exclusively on Sportsman Channel.
Produced by NRANEWS and airing live from the NRANEWS Studios near Washington, D.C., Cam & Co. is the one and only news-talk series on television that can authoritatively address today's issues. Edwards, an engaging radio personality, insightful interviewer, sportsman and shooting enthusiast, brings a completely unique perspective and intelligence that does not exist anywhere else on news-talk TV. Together with his special guests, the show explores the day's current events, breaking news and much more.
* Cam & Company airing from 5-6p ET hour ranks #1 M25-54 and #2 M18-49 demos among all mid-sized nets (defined as July 2013 Nielsen HH UE 20MM- 80MM) coverage area ratings, for July 5, 2013.
About Sportsman Channel: Launched in 2003, Sportsman Channel, and Sportsman HD, is the only television and digital media company fully devoted to sportsmen in the United States, delivering entertaining and educational programming focused exclusively on hunting, shooting and fishing activities. Sportsman Channel reaches more than 32 million U.S. television households and is available in HD. Visit www.thesportsmanchannel.com, follow on Twitter, @SPORTSMANchnl (twitter.com/SPORTSMANchnl) and Like on Facebook, facebook.com/sportsmanchannel