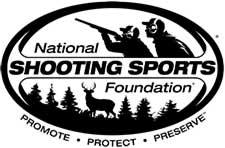 NEWTOWN, Conn –-(Ammoland.com)- The National Shooting Sports Foundation (NSSF) and USA Shooting today announced the two organizations will begin working cooperatively to promote firearm safety in the home as part of the NSSF's Project ChildSafe "S.A.F.E. Summer" campaign.
NSSF, the trade association of the firearms industry, launched Project ChildSafe in 1998 (prior to 2003 the program was called Project HomeSafe) as a nationwide initiative to promote firearms responsibility and provide safety education to all gun owners. USA Shooting is a nonprofit organization, chartered by the U.S. Olympic Committee, which oversees the development of U.S. National Teams for international competition and promotes the shooting sports throughout the U.S.
"We stand beside the NSSF and the shooting sports industry in the promotion of firearms safety," said Kevin Neuendorf, USA Shooting's Director of Media & Public Relations. "The ability to serve as ambassadors for our sport and project this message of safety, awareness, responsibility and education is an obligation we take seriously. The future of the shooting sports depends on each of us doing our part to endorse, encourage and exercise safer gun handling and responsibility."
NSSF President and CEO Steve Sanetti agrees, emphasizing that TEAM USA's involvement will help spread the message that resources and tools are available to help firearms owners practice and promote firearm safety in the home, and highlight the importance of properly storing firearms when not in use.
"Nearly all firearm accidents in the home can be prevented when gun owners take simple precautions, and proper storage is the number one way to help prevent accidents," Sanetti said. "We're proud to partner with Team USA to help firearm owners become powerful voices in sharing safety messages with family members and others in their community."
Together, NSSF and Team USA Shooting will participate in a series of upcoming events as part of Project ChildSafe's "S.A.F.E. Summer Campaign," with "S.A.F.E." serving as an acronym for Secure your firearms when not in use; Be Aware of those around you who should not have unauthorized access to guns; Focus on your responsibility as a firearm owner; and Educate yourself and others about safe firearm handling and storage.
The S.A.F.E. Summer campaign focuses on equipping gun owners to take responsible action to help keep their families and communities safer, particularly while children are home from school and more likely to be unattended. While children are a focus, Project ChildSafe is intended to help young people and adults practice greater firearm safety in the home. More information is available at www.projectchildsafe.org.
Additional Quotes from USA Shooting athletes on the importance of proper storage:
Jamie Gray — Two-time Olympian and 2012 Olympic Gold Medalist in Women's Three-Position Rifle
"By accepting the responsibility of being a gun owner, it shows yourself, your friends and especially children that properly caring for and safely storing and using firearms can lead to a lifetime of enjoyment."

Kelsey Zauhar — Shotgun National Development Team Member
"My first firearms lesson was about the importance of safety at all times. And that responsibility doesn't end when the fun on the range is over. Locking up my firearms when not in use fulfills my responsibility to ensure the safety of others. It brings a sense of accomplishment that adds to the feelings on the podium. All firearms owners win when they're safe!"

Corey Cogdell — Two-time Olympian, 2008 Olympic Bronze Medalist in Women's Trap
"Teaching your children firearm safety and properly securing your firearms MUST go hand in hand. Respect, education and security are the first steps to keeping firearms out of the unwanted hands."
About NSSF
The National Shooting Sports Foundation is the trade association for the firearms industry. Its mission is to promote, protect and preserve hunting and the shooting sports. Formed in 1961, NSSF has a membership of more than 8,000 manufacturers, distributors, firearms retailers, shooting ranges, sportsmen's organizations and publishers. For more information, log on to www.nssf.org.