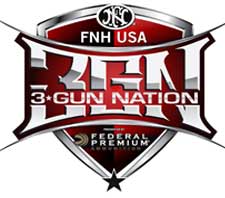 USA –-(Ammoland.com)- This week on "3-Gun Nation," the FNH USA 3-Gun Nation Pro Series Tour, presented by Federal Premium Ammunition, kicks off in Glengary, West Virginia.
Event #1 on the 3GN Pro Series Tour features the first face off between the old guard and the new challengers, all vying for a piece of $10,000 in cash prizes, courtesy of SureFire.
Daniel Horner, Keith Garcia, Taran Butler, Jerry Miculek—and more—battle a field of more than 50 of the country's elite 3-Gun professionals. Don't miss this early season match, as veterans and rookies alike shoot for cash and prizes, along with valuable series points for the 3GN Championship and a shot at $50,000 from Leupold Tactical Optics and NRA Sports.
Event #1 also marked the debut of 3-Gun Nation's latest professional series—the 3GN Lady Pro Series Tour, presented by Samson Manufacturing. Watch as field of nine of the country's top female 3-gunners compete for cash and series points, with a hopes of qualifying for the season-ending 3GN Lady Pro Series Championship, and a shot at $25,000 from Samson.
Mark Wills returns with another installment of the FNH USA Shooting Tip, while Patrick Kelley breaks down the latest 3-gun hardware in "Guns and Gear of the Pros, presented by Cheaper Than Dirt!" Also, Chad Adams and Patrick Kelley call the action, with Kelley's expert analysis on how the best shooters in the country are racing in the 3GN Pro Series.
This all-new episode of "3-Gun Nation" debuts Thursday at 10 PM EST on Sportsmen's Channel.
For more information on 3-Gun, or to find a 3-Gun Nation Club Series match near you, go to www.3GunNation.com.