Affordability without Sacrificing Quality, Consistency or Accuracy.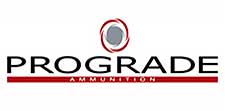 Stevensville, MT – -(Ammoland.com)- Sometimes you can have it all. Case in point: ProGrade Range Grade Ammunition, a handpicked selection of ammunition chosen with the range and recreational shooter in mind.
Delivering repeated consistency and accuracy, bullets in this series promise not to break the bank, an important factor when getting acquainted with a new firearm, or spending a long day at the range refining your shot.
So, check that wind flag and know with ProGrade Range Grade ammunition you'll be firing rounds with the highest levels of safety, accuracy, reliability and overall performance.
All rounds in the ProGrade Range Grade series are top-performing bullets. For ProGrade this means they are the cream of the crop available on the market today, with ProGrade professionals having evaluated and assessed hundreds of possible choices. Like all ammunition selected by ProGrade, Range Grade rounds are loaded in the United States with the tightest tolerances in the industry.
The ProGrade Range Grade series includes a wide variety of calibers and bullet weights including an extensive range of lead-free frangible ammunitions. So, whether you are going to put holes in paper, or knock over metal plates, you'll have the appropriate grade of ammunition you need for the job at hand.
ProGrade Ammunition has simplified the process of choosing the right ammo by hand selecting the best-of-the-best based on usage categories. With more than 250 variations in the complete line of pistol and rifle ammunition, ProGrade has created nine grades of product – Defense Grade, Varmint Grade, Cowboy Grade, Hunter Grade, Bear Grade, Range Grade, Match Grade, Safari Grade and Tactical Grade – for shooters of every caliber. Safety. Accuracy. Reliability. Quality. Together these hallmarks of ProGrade Ammunition ensure shot-to-shot consistency and guarantees unmatched and superior performance.
To learn even more about ProGrade's full line of premium ammunition, contact ProGrade Ammo Group, LLC., 3616 Eastside Highway, Stevensville, Mont. 59870. Telephone:
(435) 865-5995. www.progradeammo.com.
"Like us" on Facebook to keep up with the latest ProGrade Ammunition news, events and giveaways.