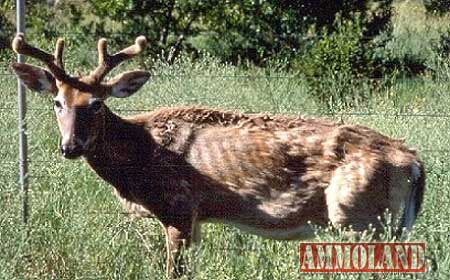 Buffalo, Missouri –-(Ammoland.com)- The test of a true multi-specie organization is to fight for the issues that affect our upland wildlife and help find solutions especially in our home state.
"QUWF was the only multi-specie organization by definition to testify before the Chronic Wasting Disease Legislative Committee at the Capitol seeking solutions for the state's discovery of Chronic Wasting Disease (CWD) in pen raised cervids (deer and elk)" states Craig Alderman of QUWF.

"Our states' rich heritage of whitetail hunting can be in total jeopardy and a $1 billion dollar related revenue stream for our state threatened if CWD actions are not formulated now".
Alderman testified to three recommendations;
That the entire management of whitetail deer, and all cervids raised in, transported out, or purchased and brought in, be under the Missouri Department of Conservation.
That transfer of management would now include the MDC managing the transport and testing of all farm raised deer, not the Department of AG;
Better controls and management needs to be developed concerning CWD and the deer farms especially where CWD has been identified as originating in the state. It was discovered in 2010 in pen deer in MO. and in the wild herd directly around the farm in 2012.
It was testified by experts CWD can take up to 3 to 5 years to incubate in deer and always results in death. Further and most disturbing, CWD seems to be staying in the environment after the diseased deer are removed for what appears to be, at best guess, 3 to 5 years. Healthy Mule deer were re-introduced into areas of CWD contamination 3 years after culling of all deer and they contracted CWD again. It appears not to be a bacteria or germ but some type of inert killer lying in wait. No research to date has been done on this aspect.
"We urge all sportsman to actively get involved with this discussion especially those like myself and other QUWF members or conservationists that have spent decades and untold dollars getting whitetail habitat on their lands brought to levels that sustain and maintain a good wild herd" explains Alderman. "This is an extreme danger that needs to be discussed and dealt with" Craig concludes. There are 1.4 million wild deer in MO and 9100 being raised on farms."
As of June 2013, QUWF and its local chapters and members have impacted 1.8 million acres of wildlife habitat and it's chapters spent $107 Million Dollars in their local communities. That is "Turnin-the-Dirt".
Quail and Upland Wildlife Federation, Inc., a tax exempt 501(c)(3) conservation organization, serves its members and chapters nationwide, providing a strong local source of habitat focus on quail and upland wildlife and population recovery. Millions of dollars of habitat work have been completed by its members over the years on millions of acres of both private and public lands, that work continues with a renewed vitality.
Our chapters from coast to coast, provide the grass roots, local habitat work that is making a difference each and every day. For more information or to join QUWF please visit our website at www.quwf.net