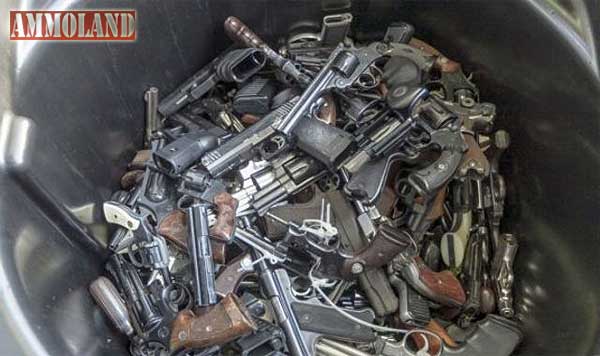 Wisconsin –-(Ammoland.com)- A Racine organization is hosting a "gun buyback" program THIS SATURDAY from 10am to 6pm:
http://racine.fox6now.com/news/news/287761-group-launches-gun-buy-back-drive-stop-violence
Across the country, these "gun buyback" programs have turned into GREAT opportunities for law-abiding gun owners to pick up some quality guns for vastly discounted prices. The "gun buyback" program is offering $50 or $100 for guns. People drive up to the buy-back site and are given money for their guns.
We KNOW from past experience, criminals aren't going to show up and turn in their guns. What DOES happen is people who have inherited guns often show up to sell a gun they have NO idea how much it is worth. As many good condition guns are worth $300 to $1000 its a great opportunity to take a look at what people are showing up to sell for "cheap" to the "buyback" and offer to purchase a valuable gun in a private party sale (perfectly legal in Wisconsin) offering more than the $50 or $100 the "buy-back" program is offering.
If you would like to participate in this opportunity to purchase guns WELL below market value, a large number of Wisconsin Carry members will be heading down to Racine tomorrow (Saturday) to participate. They will be standing on the public sidewalk just outside the parking lot where the "gun buyback" is occurring. They will have poster-board signs offering more money to people than the gun buyback is, and people unloading guns for cash will pull aside to show you what they have. If its a good condition gun, you are free to make an offer to purchase!
Here are the details:
When: THIS Saturday, July 27th
Where: MEET at 9:30am at the corner of Liberty and Randolph in Racine.
Note (gun buyback location is a 1/2 block away at: 718 N. Memorial Drive in Racine)
PARKING is available on Randolph Street and Liberty Street. There is also a Walgreens parking lot 1/2 block to the North of the gun-buyback location.
The gun buyback runs from 10am to 6pm, but earlier will likely be the busiest time. If you come after 9:30 you will see WCI members at the corner of Liberty and Memorial with signs letting people who come to sell guns to the "buyback" program that there are buyers willing to pay more than the buyback program.
Its perfectly legal to purchase a firearm from a private individual (assuming YOU are legally allowed to own/possess them) You'll want to bring an empty gun case to transport purchased firearms in. DON'T miss this opportunity to possibly pick up a VALUABLE gun for $75 or $125 bucks.
You are encouraged to visit the Wisconsin Carry facebook group to check in on updates during the day.
www.facebook.com/groups/wisconsincarry
PLEASE EMAIL ME IF YOU HAVE QUESTIONS.
As always, be welcome to tune in to Wisconsin's own Gun-rights radio program "Well Armed Radio" hosted by me, Sunday's at 8pm LIVE with listener call in. Tune in, Call in, BE WELL ARMED.
Catch the show (and previous archived shows) here: www.blogtalkradio.com/wellarmedradio
Carry On,
Nik Clark
Chairman/President – Wisconsin Carry, Inc.
[email protected]
Host of "Well Armed Radio"
www.blogtalkradio.com/wellarmedradio
[email protected]
About:
Wisconsin Carry, Inc. is a non-profit corporation dedicated to the preservation and reclamation of the rights of law-abiding Wisconsin residents to carry in the manner of their choosing. We believe that "open carry" and "concealed carry" are choices to be made by law-abiding citizens based on their situation and preference. Wisconsin Carry, like many gun-rights organizations in Wisconsin, is investing a great deal of resources to get Wisconsin law changed to allow concealed carry this next legislative session by proposing Constitutional Carry. Wisconsin Carry, Inc. will continue to use legal recourse to deter unlawful treatment of law-abiding Wisconsin residents who currently exercise their right to open carry, and soon will exercise their right to concealed carry in Wisconsin. Visit: www.wisconsincarry.org