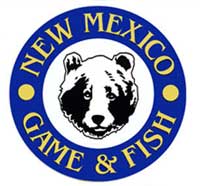 RATON, NM –-(Ammoland.com)- A female bear that had become enamored with the dumpster behind the Sonic Drive-In is lucky to be alive today following a harrowing rescue from the top of a power pole.
The Department of Game and Fish responded to a call Sunday evening by someone stating that a bear had been electrocuted. Upon arrival, officers found a very alive bear atop a power pole. The bear had been foraging for food all day in the many dumpsters available in Raton. Officers darted the bear, but as it fell asleep and began to fall, it's collar from a previous capture caught on a large bolt.
A bucket truck crew from the Raton Public Service Department was able to free the bear from the bolt and lower the bear to the ground. The bear was fitted with its second ear tag and placed in a transport cage for relocation.
"With such a huge available food source from Raton's dumpsters, I expect she'll return pretty quickly," Officer Clint Henson said.
The bear was caught in the same area July 16 and was fitted with a radio tracking collar in cooperation with New Mexico Highlands University to study her movements.
The City of Raton has been plagued for years by bears that have grown accustomed to an easy food source in the city's large number of dumpsters. Henson and other wildlife biologists estimate that 30 bears live in and around Raton, most of them sleeping through the days and raiding dumpsters at nights. The Department of Game and Fish had offered to buy $317,000 worth of bear-proof dumpsters for the city, but city officials turned it down.
For more information about living in bear country and how to keep bears alive and you and your property safe, please visit www.wildlife.state.nm.us.