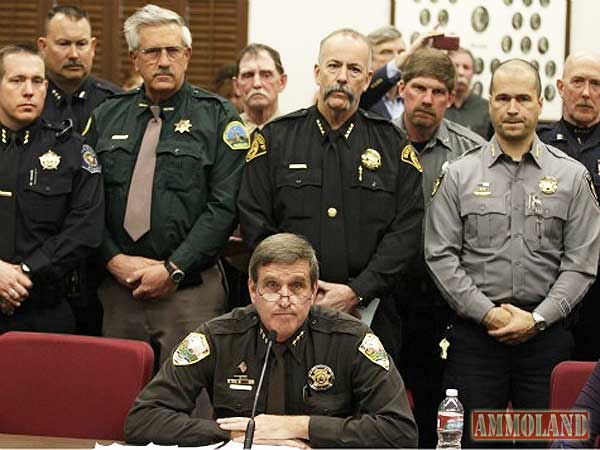 Washington DC – -(Ammoland.com)- Larimer County, Colorado Sheriff Justin Smith is one of nearly 30 Sheriffs who have signed their names on the dotted line of a lawsuit to overturn the latest slew of gun control laws passed by the Colorado legislature and signed by Governor John Hickenlooper (D).
The suit in which Smith is taking part specifically targets the laws that emerged from HB 1224 and HB 1229.
HB 1224 bans rifle and pistol magazines holding more than 15 rounds that "were acquired after July 1, 2013." At the same time, it also bans many other magazines by prohibiting smaller magazines "designed to be readily converted."
When Breitbart News spoke to Sheriff Smith on July 22 2013, he explained:
The problem with this is that those who wrote the law don't understand firearms or magazines. And many of the most popular firearms have magazines with removal floorplates — for instance, a Glock magazine. This law will effectively ban certain magazines even if they're under the capacity limit, based solely on the fact that they are expandable or simply give the appearance of expandability.
HB 1229 put background checks in place for every sale in the state–in store sales, online sales, private sales, and of course, sales at gun shows. Additionally, after forcing every sale to go through a Federal Firearms License (FFL), this law also adds a $10 fee for every background check.
Smith explained to Breitbart News that another asinine aspect of HB 1229 is that it incorporates a 72 hour rule; the law is written so that any time your gun is out of your possession for more than 72 hours you will have to do a background check before getting it back (which also means you will have to pay a $10 fee).
They've written the law in a way that the difference between legality and illegality are undefined. They simply stress that the gun has to be in your possession at all times. They've tried to clarify this to mean under or within your domain.

But let's say you're a Colorado resident in legal possession of gun you owned prior the the July 1, 2013 deadline. You have an automobile accident and while the ambulance takes you to the hospital, police find the gun in your vehicle. They hold the gun for you but you're in the hospital longer than 72 hours.

When you finally recover and leave the hospital you ask the police for your gun and they say you have to do a background check to get your own gun back because it's been longer than 72 hours. Moreover, you have a 17 round magazine in that gun and those are now banned, and because it was out of your possession for longer than 72 hours you've forfeited it.

This is a mess.
The suit filed by Smith and his fellow Sheriffs is joined by numerous Colorado businesses and individual Colorado citizens. Said Smith: "We are a cantankerous bunch and this is our Alamo."
Follow AWR Hawkins on Twitter @AWRHawkins.
About:
AWR Hawkins writes for all the BIG sites, for Pajamas Media, for RedCounty.com, for Townhall.com and now AmmoLand Shooting Sports News.
His southern drawl is frequently heard discussing his take on current events on radio shows like America's Morning News, the G. Gordon Liddy Show, the Ken Pittman Show, and the NRA's Cam & Company, among others. He was a Visiting Fellow at the Russell Kirk Center for Cultural Renewal (summer 2010), and he holds a PhD in military history from Texas Tech University.
If you have questions or comments, email him at [email protected] You can find him on facebook at www.facebook.com/awr.hawkins.