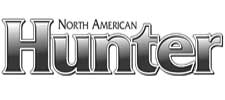 Minnetonka, MN –-(Ammoland.com)- Where do you go for remarkable spot and stalk black bear hunting? Vancouver Island of course!
That's where North American Hunter-TV Host/NAH Editor-in-Chief Gordy Krahn and retired NFL player, Joe Jurevicius, are heading as they spot and stalk for big bruins. Tune in to North American Hunter-TV this week on Pursuit Channel and WILD TV. North American Hunter-TV is part of the North American Hunting Club, the premier community for hunters and outdoor enthusiasts.
"I've been to the Island many times, and it's spot and stalk hunting on steroids. You come here to hunt, and you can easily cover 100 square miles in one day," said Krahn.
This area is known as a destination for monster black bears. Guides take hunters out on a mixture of private and public hunting land.
"You spend hours moving from clear-cut to clear-cut because that's what the bears are doing, too," noted Krahn.
Joining Krahn is retired NFL wide receiver, Joe Jurevicius. The first day out, the hunters see signs of bears (broken tree limbs), but no bears. After glassing for a few hours, they decide to return to their truck, which turns out to be a good idea. As they turn the corner, a black bear is marking its territory directly in front of them. Tune in to see if Jurevicius gets his shot!
Also in this week's episode, tune in for Krahn's "One More Thing" on Federal Premium Trophy Tip ammo, and North American Hunter Sr. Editor, Luke Hartle, shows how to get back in bow shape in the "Mathew's Minute" segment. In Field Test powered by StuffStuff, get the latest reviews on MyTopo Maps, Columbia PH Baselayer and a turkey mounting kit. Lastly, in "You Call the Shots," what would you do when faced with this rifle shot at an Alberta mule deer?
Join the North American Hunting Club FREE for the first 30 days and receive a digital copy of North American Hunter; just log onto HuntingClub.com
North American Hunter-TV's Pursuit air times are: Thursdays 3:30 p.m., Fridays 6:30 a.m., Sundays 8 p.m; and Wild TV air times are: Tuesdays 3 p.m., Thursdays 7:30 a.m., Fridays 12 p.m., Saturdays 7 p.m. All times Eastern.
About North American Hunting Club: With 550,000 enthusiastic members, North American Hunting Club—through its official publication, North American Hunter—strives to increase the hunting skills and enjoyment of Club members. The NAHC's mission is to serve as a one-stop source where avid hunters from across North America can satisfy all their hunting needs. The Club also acts as a vehicle through which hunters from all points of the compass can communicate—sharing success stories, photos and videos through the magazine, website and the social network. For more information on the NAHC, visit: HuntingClub.com.