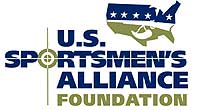 Columbus, OH –-(Ammoland.com)- When 14 year old Maegan Loka learned that a Wisconsin Wolf tag, for the inaugural season, was going to be donated to her over the phone, she was so surprised that she had to take a deep breath before exclaiming "yes!"
As the President of the Future Trappers of Wisconsin, and the youngest youth member of the Wisconsin Conservation Congress, Loka is not a novice when it comes to the sport of trapping. However, a wolf tag in Wisconsin is not easy to come by, so Loka knew she had to jump on the opportunity.
"I knew exactly where I wanted to set my traps," explained Loka. "I dyed and waxed my #3 Bridger traps that I had won at the 2012 Wisconsin Trapper's Association Spring Banquet, and on opening day my dad picked me up to take me out to set four traps."
She set four more traps over the course of the next two days. Loka and her family went out after school on the third day to check the eight traps she had placed using dirt hole sets.
"When we drove up to the second set I could see something moving. I about climbed over the front seat of the truck to see what it was." said Loka. "Before my dad could turn the truck off, I was already out the door. I was so excited! I harvested a wolf!"
Loka was the first individual to take a gray wolf after the delisting of the Greater Western Wolves from the endangered species list.
"I learned a quote in class…"What you learned here is not yours to keep—it's only yours to share," said Loka. "I really believe in this and I am going to pass on what I have learned to others."
All of us need to heed that very good advice from this very young person!
Western Great Lakes Wolves History
The U.S. Sportsmen's Alliance Foundation (USSAF) and our partners have worked hard over the past five years to have wolves in Michigan, Minnesota and Wisconsin removed from the Endangered Species list.
In response to a petition from USSAF and our partners, the U.S. Fish and Wildlife Service (FWS) announced in January 2012 that gray wolf populations in the Western Great Lakes region had exceeded recovery goals and should no longer be protected under the Endangered Species Act (ESA). This move returned wolves to state management in Michigan, Minnesota, Wisconsin and some portions of adjoining states.
This move opened the door for the first wolf hunting and trapping seasons which NAME took full advantage of. USSAF and our partners continue to fight to protect sportsmen and women from legal battles brought by anti-hunting groups looking to put wolves back under federal protection.
About:The U.S. Sportsmen's Alliance is a national association of sportsmen and sportsmen's organizations that protects the rights of hunters, anglers and trappers in the courts, legislatures, at the ballot, in Congress and through public education programs. Visit www.ussportsmen.org.