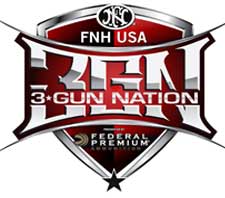 USA –-(Ammoland.com)- This week on "3-Gun Nation," the FNH USA 3-Gun Nation Pro Series Tour, Presented by Federal Premium Ammunition, heads to Tulsa, Oklahoma, for the first event at the U.S. Shooting Academy.
Watch as 3GN Pros battle to chase Daniel Horner and Lena Miculek, who each established early season leads after a big win in West Virginia.
See the game's best—Jerry Miculek, Taran Butler, Keith Garcia, Mike Voigt, Kalani Laker, Mark Hanish, and more—race to crack the top three for a piece of $10,000 from Magpul, including $5,000 to the winner of Event #2 on the 2013 3GN Tour. Also, valuable series points are on the line as well, as each shooter tries to stay in the top 30 for a trip to Las Vegas, the Rumble on the Range, and a shot at claiming the title of 3GN Champion and win $50,000 from Leupold Tactical Optics and NRA Sports.
Also, the FNH USA Shooting Tip, with country music artist Mark Wills, returns this week, while a new gear segment sponsored by Cheaper Than Dirt!, and hosted by pro 3-gunner Patrick Kelley, gives insight on all the latest guns and gear used by top competitors today.
So tune in to Sportsman Channel Thursday at 10 PM EST for the latest all-new episode of "3-Gun Nation."
For more information on 3-Gun Nation, the sport of 3-gun, or to find a 3GN match near you, go to www.3GunNation.com.